I have a 95 2.2 OHV, And have the parts for the 4.3l Blazer pump swap. With NGK tr6's, and good gas, Could i run a 65 wet shot moderatly?

Also, a buddy of mine has a kit, And ive seen it installed on a majority of the cavy's here. However when browsing Ebay, ect for used / cheap kits, I only find the higher kits for V8's.

My buddy got his kit, with 55,65,and 75 jets, bottle, box, line's, switch, and plugs for $460 locally. Is this is decent deal? or where should i look for cheaper. Jeggs dont list the kit, Ebay has a few, but are real high priced, And come 75+..

do a search on ebay you can get an nos kit for like 4 shipped with 50 60 and 75 jets its a dry shot... i dont know anything about the ohv engines i just started with nos on my eco and have learned quite a bit from searching. when you search on ebay search for nos purge system


50 shot

I'm no expert on the older ohv motors but I think the 95 has the side feed injectors. So I would only use a wet kit on ur car, This way you add fuel from another means besides upping the pressure at the injector. You can go wrong with using a universal kit from NX, Nitrous Oxside Systems, Nitrous works, Or even Zex. Just take some time and figure out how you want to set up your kit.
If your new to nitrous spend some time reading up on the subject first. There are plenty of good books and articles to read on the net. Keep us up to date on what you plan on doing.
-Jeff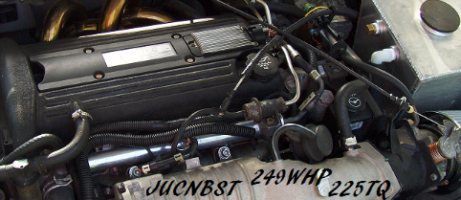 I plan to run a 55 shot [Atleast]. a buddy of mine just got a decent deal on a ZEX wet kit locally, So i may go get one as well. My car does have side feed injectors, Would doing the blazer pump help, or possibly kill my motor? Ive got one sitting around, Seen i can use it, So figured why not.

And is it normal to pay $500ish for MSD DIS -2?

oh yeh. im thread starter. changed display name.

The blazer pump will help keep the proper pressure at the injectors and the Fuel "T" that you will have to make for the supply line to the fuel silinoid. I highly recomend a fuel pressure saftey switch, so if by some chance the fuel pressure drops the nitrous kit will turn itself off and possibly save the motor.
Plus changing the pump wouldn't be such a bad Idea on a car that is already 12 years old.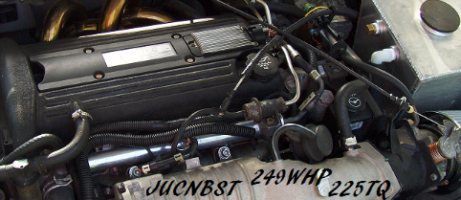 Blazer pump = good.
$500 for a DIS-2 is rediculous. Check ebay.
fortune cookie say:
better a delay than a disaster.
thats where i was checking. Dont see one under $485 BIN..

ill sell you my dis 2 for 400 ????


13's or blowning it. wayhttp://i39.photobucket.com/albums/e175/slowfire99/100_0463.jpg

not ready to buy at the moment, Sorry.