I went and had my bottle refilled the other day, dropped it off and picked it back up, went to the races, purged my system. Sprayed fine out of the purge lines.When I hit the window switch it did not fill the same. Ran a few more times then checked to make sure the pills were not clogged up. Everthing fine. ran one more time and noticed NOS was coming out of my purge lines. It would spray...stop...spray...stop. Had the silenoid (Hope that spelled right) replaced. Ran it again on the way home. doing the same thing. No nitrous is making it to my pills its all going out the purge lines. Any thoughts? Should I just replace the whole system? (When in trouble, when in doubt, run in circles, scream and shout HELP HELP HELP!!!) But I am getting fuel out of the pills.

You probably have a clog somewhere else

15.2@89mph 2.171 60ft. 9.830 1/8 R.I.P. "LULU"
When is the last time you cleaned out ur nitrous filter? just a thought.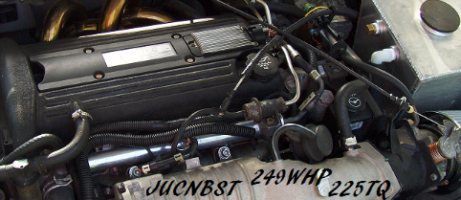 Replaced the line on the nitrous side that run from silenoid to "Y" block. Did not fix problem so I just remove purge system all together. Come to find out, new silenoid was bad. New means new, new does not mean good. Has any one ever tried that CRY02 system? I have thought about buying one just for looks, plus its no where near as expensive as nitrous just to intemadate. Thanks you guys for yoyr thoughts and help.

Why intemidate?Just get the setup you have to work properly.

15.2@89mph 2.171 60ft. 9.830 1/8 R.I.P. "LULU"
solenoid... *cough*

"Z24 Dustbunny"

Gray Maudsley wrote:

wtf are pills?
They make your car feel better!LOL....pills are also known as jets

15.2@89mph 2.171 60ft. 9.830 1/8 R.I.P. "LULU"
One thing that you foget to say....never use Cryo2 like nitrous...don't spray it in your engine because your are going to have a bad surprise...lol