one quick thing though...
the stock ld9 head has a PCV hole in the middle, the intake manifold then has channels that direct that pressure around.. dont know a whole lot about this but i know its there. the 086 doesnt have this system.. so when you bolt the head on you just do away with the pcv system?
from reading that quide it seems easy as hell.. but you said you had to do more, what else did you have to do?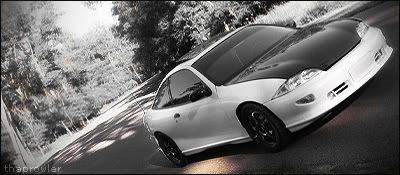 Fall 08 Omaha/western Iowa area meet...
CLICK ME!
The only pcv system I have anymore is the black hose that routes from the black box on the front of the block to the timing chain cover. I remember my first build I actually modified the head gasket for that extra whole. With my second build, I left the gasket alone. So as far as doing away with it, I guess I did. As well as the EGR and Evap systems. SHHH! I'm having some problems with a huge oil leak all of a sudden so maybe it has something to do with the blocked PCV system. I dont know.
As far as other things I had to do, the coolant hose plumbing into the head and mods to the thermostat, I opened up the coolant passages on the face of the head for some reassurance and to match the head gasket, deleting the EGR system from the computer since i did away with all the components from the 2.4, modifying the shape of the oil dipstick tube to fit through or around the larger exhaust manifold, and I recommend running the secret cams to keep your power steering as switching over to the 2.3 style seemed like a pita. As for the cam sensor, I ran without it at first when I was running my HO cams. Chris says you don't need it in which I believe. Thats all I can think of for now that I had to do.