I have saved enough for nitrous, now my ? is, what kit do yall reccommend? I am currently looking on ebay for a "wet" kit. I am planning on pushing a 100 shot to it. I know it is not 'safe" but this is not my DD. Do I have to retard timing to be safe? Or can I go -2 plugs, tap the nitrous, and run the hell ot of it? I really dont want to have to save even more for a dis-2, but I will if I have to. I just want to see the most gains for my money, the whole reason I am going with nitrous.
Thanks!


98 z24, few upgrades, nitrous on the way!

i use zex wet system with 125 shot with stock tune (tuning is in progress now though) and it works used to have a dry shot aswell and always used 75 tried 125 but ran too lean im usin 2 step colder just to be a safe side i did use zex plugs b4 and worked just fine summer time i used it all the time and didnt have any probs if wade remembers we ran the piss out of it with nitrous all night once oh man it was great
Bottle fed Z and M45 Fire
any ill affects from running a stock tune? And will I be receiving a full 100 HP with a stock tune on 100 shot and -2 plugs? And by ill affects I mean extremely lean, or not really getting all power that could be? And what are yu doing to "tune" HPT? If it is HPT, are you just bumping up air/fuel ratio? Or are you going to retard timing and such?


98 z24, few upgrades, nitrous on the way!

it run fine with stock tune dry for 125 shot it was to lean for dry and wet dont have a prob with as long u use the right jets itll be fine yes im usin hpt i bumped ar did some timing doin it for cams i have really
Bottle fed Z and M45 Fire
could u list what is done to ur car and trans
Bottle fed Z and M45 Fire
i used the NX wet kit. varying shots from 35-100. i used the NGK TR6 plugs....i think
when i was using a higher shot like 75 i always made the feul jet a little bigger.

Im a Xbox 360 fanboy...and damn proud of it!!
A wideband is very helpful, I ran a 75 wet shot with my m45 sc with a sc hpt tune so the timing was altered for it, also had alchy injection to help with detonation.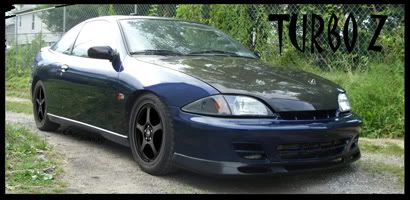 my mods are as follows:
aem intake
2 1/4 cat back (no muffler)
obx crank pulley
rk sport motor mounts

Nothing done internally, and i have not tuned for anything (as if I should with my mods!)


98 z24, few upgrades, nitrous on the way!

To fully take advantage of the nitrous system, look into a header and high flow cat (or remove it for
off road
applications, look into the mechanical O2 sim, better than electronic ones.). Nitrous adds a burst of cold dense air & fuel. You need to get rid of that extra burnt gases, and a freer flowing exhaust will help significantly. I know of a couple of people running the 2.4 TC and nitrous run the secret cams exhaust cam, with the stock intake. The couple of extra degrees of exhaust helps expel the exhaust gases better to help the motor get a cleaner fresh intake charge. These mods should help the top end horsepower without adversly affecting the low end torque peak.
zex is your best bet... u can always adjust the nozzles if u want more power...


01' Z24 5 speed
422whp/400wtq
T4 Turbocharged
Built LD9
HP Tuners

DO NOT! I repeat, DO NOT! Run a 75 shot dry. I wouldn't run a 50 shot dry! There is a reason why the better kits are wet and its so you don't destroy your car.
Just because Tyler's car still runs after spraying a dry 75 and 125 shot doesn't mean he hasn't caused some issue that will eventually come to plague him in the future. If he didn't then he is the exception, NOT the standard!
Would you add a turbo without adding fuel? NO! Would you add a supercharger without adding fuel? NO! Some idea, if not worse being that there is no lag with nitrous unless you have a controller. Its an instant, 75, 100, etc.
I also would not recommend anything over a 100 shot on a single nozzle. Can you? Yes, is it recommended? Its about as recommended as a dry shot.
Ebay is NOT recommended if you are not getting a deal on a real kit, and in real I am talking about Edelbrock, NOS, ZEX, etc. Fittings are ok. I would not trust some no name ebay, black market, chiquono, chinese solenoid keeping nitrous or fuel out of my motor. If you do purchase a used kit, be sure to test the solenoids so you know that they work.