i put my AUTOMATIC 03 cavalier on a 50 shot of nitrous. my car shifts at 6500 or so. will my car over rev when i squeeze and will it blow my motor or my tranny? what can i do so that this doesn't happen? would i have to remove my limiter and if so, how can i do it? anybody that has any info, please help me out. thanks.........
adding nitrous does not affect shift points, it just simply adds more oxygen molecules to your combustion. I would highly suggest you go with a wet shot, but other than that you should be fine.
High boost guys that push way too much horse power and dont tune there auto's might have that problem of the engine reaches the rev limiter before the tranny has a chance to shift but with a 50 shot you should be fine.
and as long as you dont have a back fire (assuming its a dry kit) you also should be fine.
OhForKavy wrote:



J03Y wrote:

poor people do that



I hate to break it to ya..but a lot of people on this site aren't in the wealthy bracket. If we were, we prolly wouldn't have j-bodies
Nitrous + auto!! I would run a window switch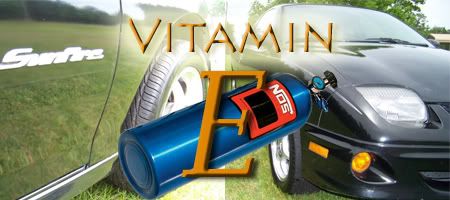 so if i put a 50 shot on my STOCK with exhaust 04 cavalier nothing will blow or anything bad like that happen?

nope you'll be fine. you could even go as high as a 75 shot
just make sure to retard the timing, run 93 octane gas, and get 2 step colder plugs.