I was unable to find answers to these specific questions. I have been looking on google and used the forum search feature, but what info I found may not apply to my situation.

I am looking to buy and then build a 95-02 Sunfire with a 5 speed manual and the LN2 engine. I like the simplicity of this engine, and I do not want a LD9 or the L61. My goals are not too large(I hope). I want to hit low 15s or high 14s consistently on a reliable and economical daily driver at 4PSI maximum boost pressure. The set up will be intercooled and I plan on full exhaust, a heavy duty clutch and flywheel, mild weight reduction, and a complete overhaul of the fuel system, engine, and transmission.

With that said, while I do not want to go too cheap, I also want to build on a budget. In the budget I plan to buy whatever engine parts I need and buy all new AC Delco injectors, fuel pump, fuel pressure regulator, and also perform a complete tune up, but I don't want to buy more than what I need when it comes to the turbo. I have no plans to increase the boost pressure nor will I ever want more than about 150hp or so at the crankshaft, so a garret t3/t4 will likely be more of a turbo than what I want.

Can a K03 turbo from a 1.8 provide 3 to 4 PSI reliably for a LN2? I read that they are a waste of time on LD9s because of their larger displacement, but not much was mentioned in regards to the 2200, and certainly most people are looking for 6 PSI of boost or more, and I read the flow volume of the k03 is insufficient for that...but for a smaller engine with a lower RPM range and a target maximum boost pressure of less than 5 PSI is it a decent choice? If not, what other options are there for an inexpensive turbo besides the ebay junk that would work well in the sub 5 pound range on a LN2?

Do I really need to get forged internals for this if my goal is about 150hp with bolt ons and under 5psi of intercooled boost? I was planning to have the block bored and buying some forged pistons(it looks like wiesco and maybe keith black make them), but I am wondering if new stock rods or the factory rods(provided they have less than 100k on them) would be good enough. The eagle rods are quite a chunk of change if they are not required for reliability.

Thanks in advance for the help!




Coming soon: Project Nighthawk

Your best bet for a build is an 00-02 car as they are easier to tune. As for your goals, psi doesn't matter as different furnish flow different amounts of air. What you will need is a solid to to keep the car together. You can push your car into mid 200whp on stock internals. Given your easy goals, is look into finding a hahnracecraft ln2 turbo kit...which wood be hard to find used. We priced our kit together and had to make a lot of our parts. A good turbo for your goals would be a t3 super 60.
I'm posting via phone so I'm keeping this short. Feel fee to pm me or post up as I'm sure others will join in shortly.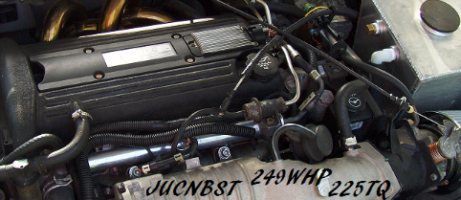 Hello, Im curious, what about the 00-02 model years make it easier to tune?? Mine is an 01.
Nick.

I am not really interested in a kit due to the price, I can fabricate my own set up and save on cash and ensure the welds are to my specifications.

That being said, I still would like to know more about a turbo that will provide a small amount of boost through the RPM range and will allow me to reach a goal of 160 to 170hp. That is why I was asking about the Ko3 and Ko4 from VW's or Audis...stock style turbos that should not overwork the engine and can be had for cheap...I just am not sure if they flow enough for the LN2.

The T3 super 60 I am a little lost on...as I mentioned I am still wanting to keep some sort of a budget on this project, but do not want anything chinese. I am sure it is a good turbo, but all I am seeing are chinese turbos and any name brand ones are over $1,000.00......not really what I would call a budget oriented turbo when I only want to see 160 horsepower from a 2.2 OHV....




Coming soon: Project Nighthawk

The stock 2.3L Ford turbo is an excellent fit (60-trim T3), and not hard to find in a yard. Stock DSM turbo (from a manual trans car) would also work decently, and be dirt cheap. Realize that stock wastegates are higher than 4psi, and can only be RAISED.
Don't worry about internals, just get a
solid tune
.

fortune cookie say: better a delay than a disaster
You definitely don't want to use the 95-97 models since they don't even have top feed injector, and tuning options are scarce, except 97+ which can use HP tuners.