I was doing some measuring today it will defiantly fit with the adapter I might just have to cut a small piece out if the radiator support and bolt a brace over the hole. Do I mount my map sensor in the charge pipe to the intake or before the turbo? Also what's your opinion with my power goal should I run a 2.5 inch exhaust or a 3? Also the cooling fan seems to be in the way by a couple inches.

Depending on how you're going to tune it, there is a 2 bar map sensor that will fit in the stock location. I think it's like Gm part 12615136. But it needs to be in the intake manifold regardless

Id run 2.5" just cause it's easier and at 200whp it will work just fine. If you plan on getting more power down the road do it once and do it in 3" IMO.

Cooling fan depends what you want to do. Any 12v can should work and summit has a lot of size choices available. If mine won't fit (which I'm like 99% sure it won't) I'm either gonna get a smaller one or just get a pusher fan to sit on the front of the radiator.


"A car just isn't a car without a little blood, sweat, and beers." -- Shadowfire

Matt the dp and exhaust took about a week and a half working on it after work for an hour or two a day. And we might redo it down the line if you port the head and I'll just make a clean dump at the front bumper on a cut out if he doesn't want to add a/c.
Noah, make sure you pick up a bung to weld on the intercooler piping going into the throttle body for a threaded IAT sensor. You want one off a 3rd gen 5.7v8 camaro. it has the same connection as ours just screw in instead of pressed in.
This is the one you want....also you can find your map here as well.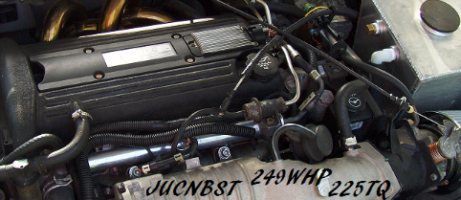 "Down the line" might be a ways. Lol. But my offer is still solid.




"A car just isn't a car without a little blood, sweat, and beers." -- Shadowfire

My buddy does autobody work for a living and restores covettes for a living....all it takes is one good side job and me putting idea's into his head.