I have recently bought a 2005 5spd LSS coupe with 70k on it. I picked it up for $2200 for a DD and project. The car is in great shape, runs perfect and has never been wrecked. I am looking to bolt up an m62 with in the next few months. I have been reading the forums for the last week or so and I believe I have most of the info I need. The one area I am a little lost in is mainly vacuum related. Is there any more "complete'' threads that cover the swap? Hopefully one that goes more in depth with how to run your vacuum system? I am most likely going to run the GM reflash since I live in an area with no tuners, NE ohio around Youngstown. From what I understand the reflash is a little rich and running a 3 or 3.1 pulley can help with this. I do plan on running a heat exchanger. I don't know a whole lot about the ecotec yet but I have been in the car game for a few years. Most of my experience is working with the LS engines my last being a procharged LS1 GTO so I am fairly confident I can do the build on my own. Any help would be greatly appreciated.

Welcome to jbody! I have not supercharged a jbody YET... but I'll try to help you the best I can.
I posted a few links in
this thread
today, not sure if any will help you on you specific question but might be good reads. Also check out
Ecotec forums
I have the link going to the media section where their is some good builds.
Just a FYI, not sure if you know this but the 03-05 ECO s/c tune is locked meaning it can not be adjusted in the future. Not sure how much you plan on modding but that could be a factor, some guys have ran a 00-02 LD( PCM/Harness with the LD9 GM s/c tune that is a speed density tune and put it on a Ecotec. I am still learning about it myself but this is probably the way I'm going to go with my car if/when I do a eco/m62 swap. There is more info in the links I provided.
I know a lot of j body guys get frustrated with our tuning options as the V8 guys (LS engines) and others get a lot more support then us. Also tuning the j body is a lot more harder than a LS engine because of that lack of support. I am not trying to scare you away or anything, just letting you know. I still plan to do eco/m62 swap regardless and I am planing on buying hp tuners and possibly tuning it myself or seeing if someone can help me. I don't really have much tuners in my area either and the ones that are here would probably just laugh at my car. When I had my cobalt ss/sc, I had a hard time finding anyone to do exhaust on it, they all laughed at me and only wanted to put 2" or smaller on it, said 2.5 and 3" is too big for a 4 cyl...even though the factory exhaust is 2.25".
2000 Cavalier Z24 5spd - Intake, Dynomax muffler, Hawk Pads, Powerslot rotors, Sportlines/Koni reds, Neon Coil, MSD 8.5 Wires - **SOLD**
2014 Kia Forte Koup SX 6spd - 1.6L Turbo - My new car
2015 Kia Sorento EX V6 AWD - Wifes Car
Ask what you want to know. And pm me your email addy and I'll send the gmpp install pdf for the gm blower kit. I had a kit for about 2 years and helped install others on fellow members cars.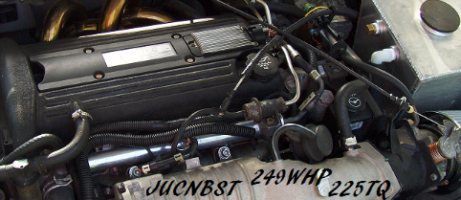 JUCNBST are you running your set up with the GM reflash? If you are what pulley, injectors and TB are you using and how does your car run? How are you running your vacuum system? I'll PM you my email for the pdf file. I really appreciate the help. I am really looking to build something reliable enough for a DD. Not looking to set records or anything, just want a fun DD.

Matt check out the tread I posted. It will answer pretty much every question you have.
"In Oldskool we trust"
Y3llowCav wrote:

Matt check out the tread I posted. It will answer pretty much every question you have.
Thanks. This is what im looking for. This has some good info
Just FYI, I am selling my complete kit, ready to bolt on, everything but the tune. PM me if interested