EvoFire wrote:

yup bad day....but also a bit bothered.

95% of us here work our tails off to find answers to our problems, or create them, custom parts, custom tunes, whatever. So it bothers me a bit when people come asking for info to be spoon fed.

I am sorry i came across how i did. and your apology is accepted....now read the link you have been given and get the blower setup on.
No worries, Evo. I've read all the links and my knowledge of these engines is growing so I should soon be able to shed the noob status around here.
For the few of you that wanted to see her, here's Patsy, my '71 Torino GT. This was from a few years ago, and I've since repainted the front valance so there isn't anymore chipped paint showing. I've also since installed racing seats. Sorry about the motor pic being kinda fuzzy and overall not that great, but don't let that fool you, she rips.
Sorry, I had to re-upload those photos. Here they are. They're also in my "garage"
You will need to upload your pics to photobucket or the like and then link them here. Beans.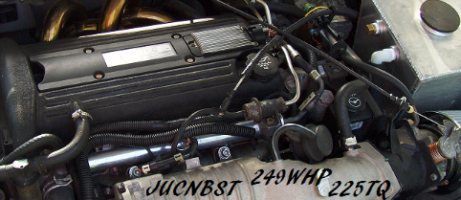 Tony Ellis wrote:



JUCNBST wrote:

. . . we supercharged David Fairhust's auto LSS and all you need to do is a relearn on the ecu and it was good to go.


Is there a build thread on this? Interested in seeing how the transmission is holding the power! Is that the only M62 auto L61? Don't think I've heard of any others!

There have been a few auto mp62'd j's but I've only ever worked on or seen one and that is David Fairhurst's car. Luke is local to me as well but I've never seen or met him in person. I'll see if I can get dave to post up here. Right now he is on an HPT tune from rare5spd.