I am not saying this is bad, just asking if it is feasible. With the stock TB and the AEM intake tube, i was seeing 12-14 PSI. I have now added the vortec 75mm tb and a 4 inch filter, and boost reads about 9-11 PSI. Granted it also got hotter by 10-20 degrees since i drove it last, here in arizona recently, and the PCV is not hooked up, and i think i am way way rich! need to hook wideband back up!
what do you guys think> the car is torn apart, and never was put back together all the way after the intake stuff...should i get it all done, fueled right and then worry?
thank PJ. i am thinking leak post TB? maybe adaptor not sealing right?
my only problem with that this, is nothing changed post TB. i simply removed old intake setup and installed new.
pre rotors, there is no boost.
a leak at the throttle body or adapter shouldn't make any difference. the car might idle and drive screwy, but leaks only matter after the rotors
did you pull the fuel rail? check the o-rings.
did your boost sensor move?
did you forget to hook up a vacuum line and you have a leak?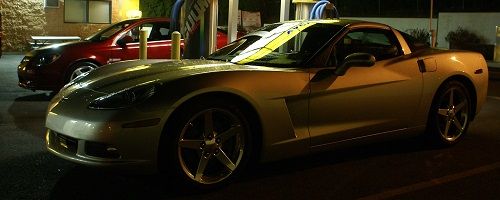 All things i will check PJ.
also gonna check heat exchanger equipment.
very real possibility that its just nature. it was about 100 degrees the day i noticed this, and iats were 120+ so when i button the suspension and brakes up and tidy up the intake, ill see what the deal is again.
as far as i know, nothing has changed (by my hands) except the intake stuff....and i am not sure what the readings were before the swtich. it could all just be in my head...power is still there.
DaFlyinSkwirl (Pj) wrote:

pre rotors, there is no boost.
This was my immediate thought too. Do you notice if the boost bleeds off at all at WOT? Like, maybe hitting 11 or 12 and while still at WOT it starts to slowly go down?
"In Oldskool we trust"
from what i noticed, it just peaked and held. but a few PSI lower then expected...
things to keep in mine. 3.0 pulley, ported intake, and heat exchanger.
the ported blower means a bit of a drop in PSI, as does a maybe not functioning properly heat exhanger set up..
ill troubleshoot more once the car is drivable again.
Well I only make 9-10 psi with a 3.1 pulley.

So sounds about right, considering im not ported.

A non functioning heat exchanger system will increase psi.

yeah philly come to think of it, i was only makign 10-12 on that pulley, so 8-10 with a weather change is feasible