I just sold my Nissan 180sx that I had built and boosted and I've got the itch for something new. I've always been GM at heart and for some reason loved the 96-2002 z24's. I wanna do a mid 500 hp build on one, and have been looking for a rust free 2002. I happened to come across the 2000 at a good deal. It appears to have the F23 transmission, and hp tuners supports it. Is there any other reason that I shouldn't purchase it? Anything that may make my build more difficult?

Mild and 500HP should not be in the same sentence.
Any 00-02 LD9 can be re-flashed by the dealer or HPTuners for the GM Supercharger Re-flash. This will change the computer from Alpha-N to Speed Density. The GM re-flash for the eaton M45 supercharger comes with a new MAP sensor. Many people have ran much higher boost levels with appropriate tuning on the stock MAP that came with the charger kit.
The stock bottom end is normally good to around 10-12 PSI with good tuning, and anything higher than that, it is recommended to build the bottom end.
When you get to around 1000cc injectors tuning for idle seems to become a pain in the ass also.
Ryan @ PnP tuning is the best tuner around if you can get a hold of him. HE IS A BUSY MAN!
http://www.j-body.org/members/cavattack2000/
Haha *Mid!

Yeah I've noticed in my parts list, it looks like a crank is going to be an issue. Either treat the stock one or have a custom one built. Are there other MAP options available? Seems in all of my searching on the forum I should be ok.. I'm assuming (ass) that with my build I'll be somewhere mid 20's to mid 30's psi. I've been looking at tuners. I'm in the New Jersey area. I haven't settled on that yet, even though that's the most important part. I may go check out Evan's Tuning in Stroudsburg, PA and see what his thoughts are. He's got a pretty good reputation around here

All the 500+ LD9 guys had no issues with the stock cranks.
Evan is a GREAT guy. My buddy drove the 9 hours to have him tune his civic. That being said.....I do not think he has ever tuned a j-body, and our PCM is weird to say the least....and he doesn't do anything with HPTuners last I knew.
I would contact Oldskool and see if he is willing to tune your car. He is located in eastern PA.
yes. there is absolutely NOTHING wrong with the stock LD9 crank. I wouldn't even worry about doing any special mods to one all the way up to 600. who knows, a cryotreated one might actually stand up to 700-800whp. problem is nobody has ever tried so we do not know what the limit of the stock LD9 crank even is.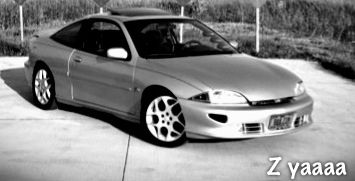 RIP silver car. You will be missed.