I'm wondering what specifically causes this problem, worn valve body, weak pump, restrictive filter. My 98 Cavalier does not want to move after sitting overnight when temps are say in the low 30's or below. Give it 45 seconds to idle and you are good to go. Otherwise it shifts and operates well, minus the torque converter which stopped locking up a couple years ago. The car and trans have 230,000 miles and are well maintained. I read this was a cavalier thing elsewhere but with no other info provided. I'm coming up on a fluid change (30,000 miles) and I've been using MaxLife Dex/Mec the for the last two changes. I forget what brand filter I put in, I'm hoping that the parts store brands flow as well as OEM.
I'm currently having this same problem with a 1989 Chevy cavalier Z24.I live in Arizona so it doesn't get real cold here but the first start at a 30 to 50 degree overnight temp will cause it to take about 10 seconds to clunk into drive.Last winter it was noticeable with about a 4 second delay.No delay over the summer months.Reverse cold has immediate engagement,and after driving a few minutes,D has immediate engagement.Never any slippage.
I've looked all over the internet for an answer to this problem to no avail.A quick look at the 125 schematic has me thinking it may be as simple as a new o ring on the servo piston or a longer "bullit" that presses the forward band closed.If I try these ideas out,I'll be sure to post that it worked.For me,it's only a minor inconvienience at this point and I plan on getting a new car over this upcoming summer so will probably just put up with what I have.

http://www.fieronews.net/fusion/Downloads/Tech%20Downloads/th125c_service_manual.pdf
Above is a link to the TH125 service manual. Looks like the cause of our problem is low oil pressure to the forward clutch.(band referenced above is only used to achieve 2nd gear)
See page 24 for requirements to achieve each gear selection.
Short of a rebuild,(assuming oil level is correct and filter is clean) the only quick fix is to add an oil thickener such as Lucas...
Hope this info is helpful to others as it took quite alot of reading before I came up with the answer. With the millions of these things produced over the years,it's surprising that this subject has never come up before!
Scott
Thanks Scott, same here, my reverse is fine. Last week I took a bottle of the Lucas trans additive I had sitting around and put "some" in. I decided to try only a few ounces just to see if it made any difference. Because it's so thick it doesn't go down the dipstick tube fast enough to add anymore than that. I noticed a bit of an improvement. I will add more and report back.
Doubt thicker oil will work. If it only does it cold thicker oil will make it worse since the fluid is thick when cold. Warm it's thinner. Just a thought.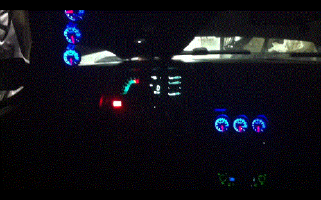 On the inside my car looks like a fighter jet.
Well, I took the plunge and changed out a gallon of the dexron 3 plus the 20 some ounces of lucas.Surprisingly, it made absolutely no difference. Now I will have to say that it must be an internal wear problem (possibly the
1 way clutch) and the only way to fix it will be with a rebuild. Still not sure though of the exact cause because as soon as it engages D, everything works perfectly.

Rob Dotterer wrote:

Doubt thicker oil will work. If it only does it cold thicker oil will make it worse since the fluid is thick when cold. Warm it's thinner. Just a thought.
Good point. When the trans is cold the tolerances of the internals are not as tight. That is why I thought a thicker cold fluid might help build more pressure.
Just to update this thread, the cavalier is still rolling everyday and has 277,000 miles. The transmission is still doing this, but I realized something very interesting this past winter. If you go from reverse to drive it will exhibit the problem of no forward in cold weather. BUT if you start out in drive there is not really an issue. Also if you reverse then drive and it won't go, putting it in park again and then drive speeds engagment up considerably.

Even though I find this strange it makes it much easier to work around, though my girlfriend uses the car almost exclusively and seems to be totally adverse to backing in. I have her park on the street instead of the driveway. Problem "solved."

My last trans fluid change was in the fall, Napa filter, Maxlife and a bottle of Lubegard Red. Made zero difference, in fact I think it was worse but I attribute that to increasing mileage. Anyway, the car is running great, and getting 28-29 mpg with the torque converter lock up turned off. Hoping to see it hit 300k on the original engine and TH125.