I was getting my vehicle flushed every 30,000 miles since I own it brand new. I have 130,000 on it now. When I went into a local shop to have it flushed they did not want to touch it. I was told GM has major issues with there transmission after 120,000 miles. Can anyone confirm this? Am I better off having it change rather then flushed?

2000 Z24

In addition, the other day I was stuck in 1st. Then at times when I'm driving it feels like it needs an extra push to get out of 3rd. Feels like it's stuck a big. I have an automatic. Could this be a fluid thing or is my transmission going south?

Nope I'm not getting any codes

When you flush a tranny you change the fluid.
Tinkles

2003 Cavalier 1SV
Bagged and Blown
Most places use a machine that does sort of like a pressure flush.. Almost every shop that uses those will not flush the trannys after 100k, reason being the transmission may have deposits that if power flushed could break those away cause leaks to show up or even clog lines/passages. The idea of you flushing you fluid every 30k is awesome that you probably wouldn't have that problem, but that is most likely their rule no matter what, 100k+=no flush. Now i bet they will change the fluid for ya no problem, just not a flush.
Edited 1 time(s). Last edited Sunday, October 11, 2009 5:54 AM

Tinkles wrote:

When you flush a tranny you change the fluid.
in a sense but when you drop just the pan fluid you get maybe 75% of it, if that. you gotta think... torque converter is full, valve body, trans, etc.
flushing it out really is the only way of getting all of it out. save for actually pulling it and manually emptying each part.
if you've really changed trans fluid every 30k... tell em to stuff it. it would be just fine.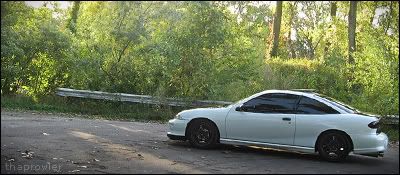 I must confess... I feel like a monster!
You could also change the fluid a couple of times to get out about 90 percent of the old fluid. Plus, with the fluid change the first time, you can change the filter which I'm sure Rican has never had done.
On the tranny holding up, I can attest to it being a good tranny.
I've never had too much trouble with the 4t40e tranny with the exception of the TCC solenoid locking up. I fixed that with a switch to turn on and off the tcc solenoid so that it forces the solenoid to engage. That worked quite nicely and never have had problems with it since.
196,000 hard driven miles says it's a good tranny.
I'd also suggest a shift kit for the tranny like the B&M because it prevents the slippage that is common for smooth shifts but increases the band wear in the tranny by doing so. With the shift kit, the wear is lessened and should last longer. Again, I've had a shift kit on the car for about 8+ years and the tranny still runs good.
Misnblu.com
Newbie member since 1999
Thank you Dave and JBO!

I dont like the trans flushing deal. I worked at an auto trans shop for 7 years, and almost everything about the flush system is wrong. Most common is problems from the excessive pressure of the flush loosening deposits and/or pushing them into small passages causing blockage. Worst is it doesnt change the filter. Its like changing your engine oil for 130,000 miles but never your filter, BAD. The filter can, and will, build up debris over time, eventually clogging and starving the trans of lubrication. The filter MUST be changed.
In your case...get a new filter, some good fluid and drop the pan n change it. Oh, and DO NOT use a cork pan gasket, they leak.
_________________________________________________________________
Looking for something new? How about an off topic forum where you can truly express your opinions without interference of mods or admins?
Join verbalwarfare.com
http://www.verbalwarfare.com/forum.php?referrerid=86