I'm getting new rims and tires. I was originally going to go with General Exclaim's however with the soft side wall and 17" rims I can see bending a rim being a problem. I'm looking for something thats going to provide good wear and not too expensive. Around $130CDN a tire. Thanks for your help.
My dad is running the exclaims on his BMW (225/50/16) and our old vw cabrio had 205/40/17 exclaims and they were wicked as well, heck I think my buddy with his civic is running the 205/40/17 exclaims and he has nothing but good things to say about them too (these are all people who live in nova scotia). I would highly recommend these tires. I am running the altimax HP 225/50/15 but will be changing to the exclaims when these wear out. The exclaims have a little better traction than the altimax HP but I think the treadwear is 380 on the exclaims and its 440 on my altimax hp's. Unless your planning on running on woods roads I wouldn't recommend 17's but the roads aren't that bad. I wouldn't want to go much lower than a 40 profile in NS. I had a set of dunlop 205/40/16 when I bought my rims and I didn't have any problems with them on our roads (and they were used off a neon who also lived in the valley). Anyways, hope that helps you. I vote for the exclaims.
I'm just worried with the softer sidewall that they'll corner like mush, and be more prone to bending my rims.
You and many other reviews convinced me to stick with the Exclaim's. Thanks
I know you'll be happy, I have never seen a bent rim with these tires and even with the 17's and a 40 profile and I did my fair share of rough road driving with some decent corners.
BFG G-force Sports. A bit more expensive than the exclaims but well worth it.

I am running the Exclaims on my 02 as well.
Great bang for the buck!
Supercharged 2002 Cavalier Z24
J-Body Bash Veteran
try a runflat michelin or bridgestone, but if thats out of your budget then stick with exclaims they look good and serve their purpose. if your careful you wont bend rims at all
op: Kumho asx's are usually pretty good.

BTW, where'd u get your tail lights? They look aftermarket...

i bought toyo t1r's 225/40zr16 (on 01 sunfire gt wheels) they work great/although a littli hard to get on the rim ,
paid 900 4 the set balance nitrogen and install

jbp built ld9
60mm tb
custom fender well 3"cai without battery removal
all prothane motor mounts and control arm mounts
mp45
pulley boys 2.5 pulley and quick change
aem water meth throug modified ebay spacer
kyb agx dial a rid struts
2" drop sprint springs
need to break it in then a good tune
winter plan :try twin charge if that dont work just turbo

Exclaim UHP 215/45/17 here. Will be running my second summer on them and love them. Improved stock suspension handling so much, can't wait for this summer on my dspecs/road magnets. They do seem to roll a tiny, tiny bit on the sidewall, but then again I really pushed them because I was surprised that they handled so good for the price.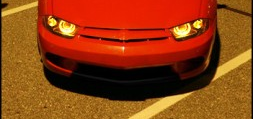 I have the General Exclaim UHP's on my civic in 205/40/17.
Pros:
- They ride nice
- Are spectacular in the wet.
- Have great road noise (or lack of... i.e they're quiet)
- Very good dry traction
- Tread pattern looks pretty
- Got them for $105 a tire IIRC
Cons:
Tread wear is okay, similar to most ultra high/high performance tires, i.e. not that great
Depending on how many km's they end up lasting I will buy them again.

I'm going to buy a set of General Exclaims...
My kumho's are almost toast, wear bars are almost level.
The Exclaims are cheap, and all Crappy tire has in stock in the size I want.
I feel Ive heard enough good reviews to give them a shot.