Talk about wheels and tires - what looks good, what performs good, what sticks good, and so on.

Wanting to trade or sell my 17's they are black konig verdicts with 215/45/17 tires all hold air and are in good condition the front 2 are toyo extensa all seasons almost brand new 3500miles on them and the backs are 75-80 percent tread and are hankooks


They are on my current car the yellow sunfire I have I have a pic of them in my profile on the car...if that don't help shoot me a pm and ur number or email address and I will send u pics...


Also these wheels are a 17x7 with a 40 offset


I also have closer pics of them under photos and media live pics of my 04 fire

Also need to post this in the classifieds not wheel and tire.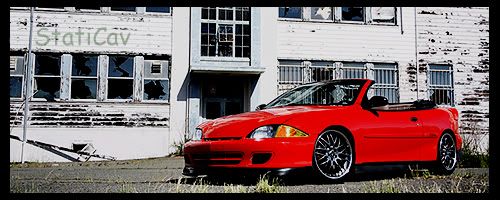 I should beable to get to everyone's pms by this weekend very busy week at work....


What are you looking to trade for? BTW you and I share the same birthday


I would like to trade up if possible for either a 18 or 19" rim also that is cool about the birthdays not too many people I have come accross have the same day as mine.

I would say a fair price to start at would be around 700 obo and they come with tires