i searched and didnt find an answer. i have a sunfire coupe and a 4 door cavy and was wondering if the sunfire coupe carpet would fit in the 4 door cavy or is there a difference beetween the coupe and sedan carpets. any help is much appreciated. thanks
ya i would think that to but didnt know if someone knew for sure. i guess the only way to know would be to go ahead and try it whenever i go back home. thanks for the reply
not to mention the area at the thresh hold.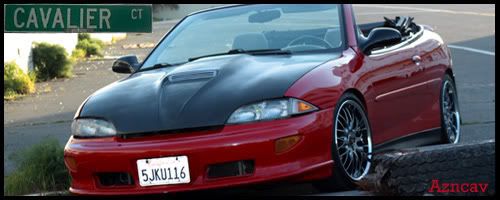 sik96eco wrote:

i searched and didnt find an answer. i have a sunfire coupe and a 4 door cavy and was wondering if the sunfire coupe carpet would fit in the 4 door cavy or is there a difference beetween the coupe and sedan carpets. any help is much appreciated. thanks
at the risk of answering a 2 year old thread...
If have a 95 4 door and dismantled a 2000 Z24 coupe. The carpets are identical.
Pictures if I have time.
dennis
I guess ill second the 2 year old reply. I actually have a sunfire sedan carpet in my Cav coupe. Carpets are the same.


"Oil Leak ? What oil Leak ? Oh, Thats Just The Sweat From All The HorsePower!!"


Update on carpet.

Yes they are the same but do note if your trunk latch opener is on the dash or on the floor.

The convertible is the only model with a different shape to the carpeting.