Pulled the motor yesterday...
Next Sunday I expect pictures of the new install. lmao
FU Tuning
How did ya manage to get the engine in the car lol. Like those seats btw.. Custom rear seats too?


ReD RaiN

Addicted to meth wrote:

Next Sunday I expect pictures of the new install. lmao
I had to return my loaner hoist... need to order some parts too. Gonna be a bit before the new motor goes in
T!M8!T: we used the engine hoist and muscled it in. Seats are out of a cobalt.
Tinkles: we are old guys, we used the hoist LOL
strat81 wrote:


I know where that went.

It's already in it's new bay, too. That boy works quick.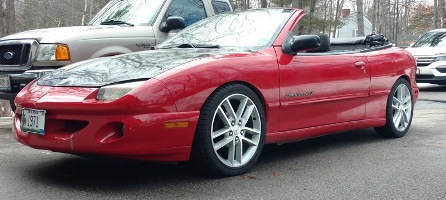 got some work done to the new motor over the weekend...
Ennotech Designs lightened alt pulley installed
balance shaft deletes and upgraded timing bolts installed as well
looking at a possible belt routing with the ac compressor completely deleted
and a quick mock-up pic
still lots to do before its ready to go back in the car...
more wrench time on the car today...
modded the l61 coilpack
and the lsj coil cover
opened up the blower phenolic spacer
and installed the mtech short shifter linkage
I started to cut up the driver's side axle in an attempt to be able to split the case on the trans but I ran out of cutoff wheels.
Who doesn't like more boost? Thanks to John Higgins for a great deal on the pulley!
welp cutting corners on my original LSD install came back to bite me in the ass...
issue has been remedied for reinstall... beveled the inner gears so the c-clips on the axles will now compress when trying to remove.
also got the cps bracket realigned and the sensor installed