What's up j-body.. recently got myself a 2002 Alpine Green Sunfire that I'm getting the bugs out of to use as a daily driver.. I'm happy to be a member of the best j-body forum on the net.!.!

Welcome! We deff need more ppl around here


ReD RaiN

Welcome. And I second the need for more people, lol.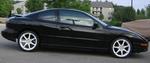 Welcome. Also still around, though I don't drive much anymore on account of living in Boston where public transit is a more effective mode of transportation.
"In Oldskool we trust"
Welcome
I lurk around here, but who wants advice from a 17 year old kid


______________________________________________________________________________________________________________
"If you ain't first, you're last." -- Ricky Bobby (Talladega Nights: The Ballad of Ricky Bobby)