Hello Everybody!

Yes, I am new to the world of J-bodies, actually we owned a 94 Sunbird for a few years before it was rear-ended and wrote off, liked that car a lot actually. Anyways off topic already.
1994 Cavalier, 2.2 5speed, 288k?

I apologize now, I'm a Mopar guy... But my 21 year old Dynasty has seen too many harsh winters and is telling me its time to move on, and my 25 year old Daytona is home in NS in a garage. So in the meantime, I now own this 1994 Cavalier. Here's what I can tell you about it. Started life as a light blue, base model Cavalier Coupe. Currently it's decked out in Z24 garb, rims and painted white. Sunbird doors for power windows and locks and a full cluster added... Mechanically (I shake my head). This 2.2 has LS lifters (maybe?), performance header, cold air intake, stage 2 clutch, Magnaflow muffler, adjustable front struts and a strut brace. Granted it runs well and is quite strong so I won't complain.

Now here are my questions if somebody would be so kind as to help me out.
The Radio, how is it actually held in place? It was dark tonight and I was able to simply pluck it out of its cubby hole and I can't figure out how It's supposed to be firmly placed in there
HVAC. My controls work, I can hear the vents changing, but the blower only comes on when it is switched to the defrost position.
Rear Defrost. I figure I'm just going to have to do some looking because God only knows what this poor car has been subjected to in the past 19 years. At any rate the light comes on but nobody is out back working.
Instrument Cluster. A V6 instrument tach cluster was installed. The Tach obviously doesn't read right, is there any quick fix, like soldering something inline with the tach to make it read right, or should I just look for a 4cyl tach cluster? Also I'm afraid to pull it out and see what kind of wiring mess has been made... I don't know if these clusters are simply plug and play. The oil pressure gauge doesn't read, so I just assume it's not connected.
Power Windows. The switch for the drivers window on the drivers door works, and so does the one on the passenger side for the passenger door. But the drivers switch for the passenger side door doesn't operate it. I'm assuming it wasn't wired up right. As well the power locks don't work (I hate half assed jobs)

So that's it for my questions, there are questions that the Mechanic will simply tell me about when I take the car in to have it saftied and e-tested, I'm prepared for that haha.

Thanks in advance!

That is alot of info.Now as for the cluster I would imagine the reason your tach and oil pressure do not work is due to harness for the 4cyldr is different than the 6 and not super fluent with the 2nd gen stuff.Now your door switches I would imagine something was not wired correct or the orig harness did not have pwr windows and they used the doors existing harness and just got it to work.I would REpost this over in the 2nd forum which is focused ON your model year and I am certain james cahill or rob dotter can ? any questions you have and fix the issues.Save this post and start and copy over to the 2nd gen forum.Your ?s will be better seen there being most of us who on our gen soley and just that and may miss seeing a new member with a older J.I check most of the site and find/ try to direct people to the area where the info can be seen and answered when I can.
Look on v6z24.com there was a post withing the last week about changing the resistor in the dash for the RPMs to work right. It is a 5 min job. Also for the oils pressure. You need to install an oil pressure sending unit. It is about 3 inches long and the plug is 3/4 of a fickle with 3 pins I believe. Look at yours if it is about an inch- 1.5 inch it i just a switch an not a sensor. It should be as long as your pointer finger. Just swap it out with the correct one and you should be good to go.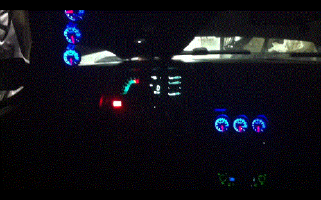 On the inside my car looks like a fighter jet.
No blower unless defrost. My first guess is that someone spliced their blower wire into the A/C line. But I don't know if your car kicks the unit on over defrost or not. I hope it does and my car isn't weird. If you got blower on all stages just wont come on without defrost, check fuse in case of HILBILLY-MODS attempted. aftermarket head unit security, honestly mine just sits too, if anyone ever tried to take it though, they would have to break the head unit to get it past shifter(not a standard) so i never looked into it. Best of luck.


Z doesn't mean last, it just lapped A.