1998 Cavalier Dirt Track Setup - Racing Forum
Forum Post / Reply
You must log in before you can post or reply to messages.
I have 1998 Cavalier 2.2 5 speed, all setup to go racing I have tires figured out, the car seems very inconsistant the more we race. What I am looking for is a how to, if anyone has some advice on what to do with the suspension, its all stock accept we used some camber bolts in the front and we cut half a coil out in the rear and we installed a front strut bar and ive got a rear one on the way. Im kinda looking at lowering springs, maybe some urathane bushings. But since ive never raced a j-body i really dont know what best for it, but we run on a high banked 3/8 mile track, bigger straights tighter turns.

get rid of the front sway bar, and don't bother w/ the rear one. Just look through this racing forum theres alot of set up info from people.

well i dont have sway bars on the car, but can you tell me why i dont want one

I was going to suggest getting sway bars with what you said, tight turns and high banks. You need to be able to hold more g's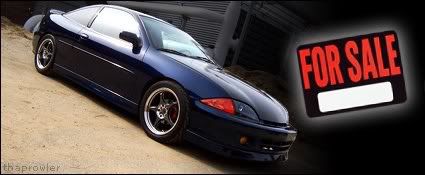 Member of J-body of Michigan.
For Sale
stock front bar and addco rear is what we run, makes a really controllable oversteer

Totally agree with Bob. Rear bar really helped me

Solid Motor Mounts will help a bunch coming back into the pedal on the turns also on green flags and restarts. I know you said you have the tires figured out but tire pressures are big on our Sunfires. We tried the strut bars back and front but didn't help our lap times. I shortened the bolts on the front sway bar so it rides on a bushing on the control arm and it firmed it up took away some of the push. We run camber on both fronts and the right rear. You might try to toe out the inside front a little it might bit better going into the turns but might lose a little on the straights. By the way I would like any advice on race setups and tuning that anyone would like to throw out there.

Stay away from the sway bars on dirt. It tries to lift the left front wheel and that takes away traction. Set the tow out about 1/4" and you should be good to go, that takes out some of the push so you stay off the wall. Walls are bad, and remember, it's dirt and it moves and changes thruout the race.


Kenny "Poppop" Brown


Were running a 95' sunfire on 3/8 and 1/2 mile tracks with slight banking. My car has a coil and a half cut off the drivers side springs and the front sway bar still attached and it handles great theres no body roll at all in the corners. I also cut the pass. side front strut tower out and moved it in to get about 8 degrees of camber and I very rarely ever have a push in the corners. The drivers side is cambered out at the top about 2 degrees and the right rear is cambered in about 3 degrees at the top. I have played with tire pressure but 27 to 28 lbs works good for me in the front and i will change the back for track conditions, adding a little more or less helps to get the back end to come around when entering the corner. This is what we have found to work the best it, maybe it will help you out some.

I really dont know how you guys run that low of tire pressures, we tryed and the thing was a dog in the corners, i ussally run mine around 34-35 so they build up to 38ish in the heats or mains, heck we even ran around 40 sometimes, but we also tube our tires so im sure that makes a difference also

Forum Post / Reply
You must log in before you can post or reply to messages.