Alright I have been doing my research here about installing a caravan hub for the right rear on the cavalier! Do I use a front hub or a rear hub from the caravan? If It's the rear do I have to buy the whole assembly with the brakes included? whats the price your paying for this? Please help going racing Friday and want to get this problem fixed.

Thanks

Kyle

would like to get this information as well. If somebody had a picture that would be awesome. trying to figure out what they mean when they say the brake line has to be modified. i know on the factory hub, it has nothing to do with the brake assembly.

From what I've researched. A rear hub off a 90 fwd caravan should work.

Wish I could help you guys out but This is new to me after almost 9 years on the site. Granted I haven't looked much into modding my j for dirt track use....but I'm curious none the less.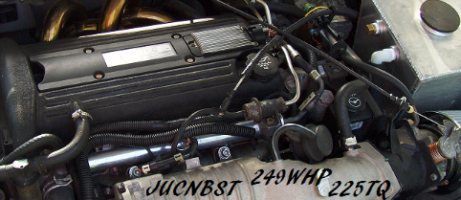 Well I stopped by the local junk yard too look at an early 90s caravan and it looks like your going to need the whole rear assembly with brakes and all! make sure you get 14 inch 5 x100 stud pattern. So when I get this maybe ill take some pictures and do a write up but for now just putting in a stock wheel bearing until that goes out!

Kyle

Dont use a front bearing. The front bearings have to be torqued because they are held together by the axle shaft.

Currently #4 in Ecotec Forced Induction horsepower ratings. 505.8 WHP 414WTQ!!!
Currently 6th quickest Ecotec on the .org -12.453 @ 116.45 MPH!!!
Fairly easy to do. I think its rear hubs off a 87 -91 caravan. Ream the top holes out a little on the cavalier, and drill new holes for the bottom two. Get some grade 8 bolts... I think I put in 3/8in, could be wrong though. Cut the bubble flare off the cavalier brake line, put a standard brake line nut on, flare the end and put it in the caravan hub. You can even get the emergency brake working but you have to modify the arm on the caravan hub that pulls the cable. I also bought new bearing for the hub too, there like $40 for inner and outer. I have 3 enduro races on mine, 100 laps each race, and still holding up good.
so you use the whole caravan brake assembly, drum and backing plate too?

Add another 100 laps to the hub and bearing. With a win on it now too. Won the enduro race yesterday. So its holding up good.

Im planning on doing this swap but havent bout any thing yet but wondering why we cant use the cavi brakes and backing plate?

The outer drum is a different size so the cav brakes wont work. and the caravan spindles are different so they wont fit in the cav drum.... Its just much easier swapping out the entire drum.