Does anyone know how to run the rest of the hoses after getting rid of heater core? I have a 2000 Cavalier that is Dirt Oval car and has no need for the heater core. I cut it out and then joined thed the lines together. Car has been overheating every race and wondering if it has something to do with that. Any ideas?

coolant low and/or air pockets left over since you disassembled and reassembled the hoses
that's all it can be in relation to you simply eliminating the heater core. cooling systems are not that complex.
2001 Alero 5-speed: GT3076R @ 21 psi
Agreed. Did you properly bleed the system after?

-Chris-



-Sweetness-
-Turbocharged-
Slowly but surely may some day win this race...

I just did a hose delete. Where the smaller hose comes off the water pump, I added a small piece of hose and shoved a bolt in it, put on 2 hose clamps, (1 high and 1 low) and tighten the crap out of them. I don't remember the size bolt but take a piece of the hose to the hardware store and match it up. Then, on the back of the block is where I added my temp gauge. I have not overheated once this year using this new technique. Also, I do not run a thermostat.
Thanks for the info. And what did you do with the other end, the tube coming off of the pipe that runs to the drivers side?

Why didnt you just loop the system to bypass it? Thats what i did on my Z24, much better and more reliable than sticking in a bolt and some clamps... plus it doesn't look like a complete hack job that could start leaking at any point like that first picture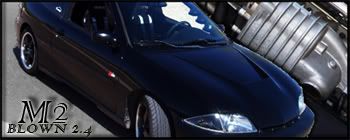 Eat my shift
Hack job? Really? It's racing. Not some fashion show. And leaking? You don't know jack. It doesn't leak and this works for me and a few other guys in my division. Thanks for your 2 cents.

I would loop the line, and then eliminate everything else. I would assume that would be the better way to do it, and you would eliminate the chances of air getting stuck in the blocked off areas.
I had the same problem with my 1999 sunfire engine. I originally just capped the hoses.. After trying many things I ended up looping the heater hose.so that some coolant could circulate to allow the thermostat to heat up and open. This corrected the problem.
Hope this helps you.

Looping it is the way to go, will not leak, less chance of anything coming undone. I also used the metal springs found in some coolant hoses so you can make a smaller loop and the hose wont kink.