i wish and i hoped that i would never have to post in here but, that has not been my luck recently. after having both cars brake down and then some skank backs into me in hy vee parking lot. then the b**** drives off. thankfully i had her license plate, 2 witness and the parking lot security tapes. what sucks though is that they are now after three weeks going to finally confront the girl and the owner of the car. the police haven't even found out whether or not this person has insurance. i am pissed. anyway i need to replace the door and the front fender and have the side of the car repainted if i even find out if it is worth it. i will post a link to the pictures because they are big and i don;t really know how to post thumb nails yet.
here it is in all its dented glory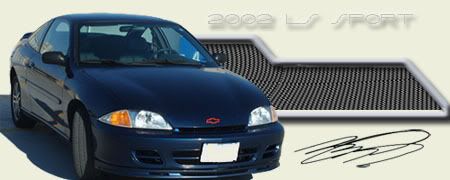 eh. those are small compared to what happend to me. 2 new doors, paint and a thrust alignment later and shees all beter. costed me 1800 for that. so your only lookin at maybe 1300 or less. good luck with it man
go to the wrecking yards, you can find a door for about 100-250! paint should only be about $200

[fenders can be bought aftermarket for $100-200]
so thats under $700!

Kardain wrote:

Tonite on Fox:
When X's attack

Too bad you pry don't live near me...

used car door (no interior or glass or handle) - $38 plus $5 core charge
used fender - $38 plus $5 core charge

I picked up two new OEM fenders for $45 a peice whenever I was in my accident. Good luck on getting things worked out.
Proud member of
JBOK (J-bodies of Kentucky)