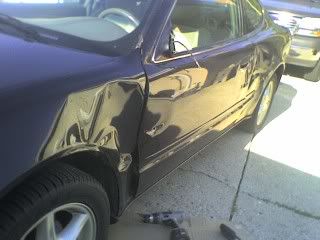 Well my gf was on the way to school and a deer ran into her...

needless to say if it gets totaled shes getting a Z24


Dude i would not even tell the insurance company about that!
My car--->
http://www.cardomain.com/ride/2569452
Its a lot worse then that pic looks. 2800 in damage

Door is bent rear quarter panel is tweaked scratched all down the side. Control arm is possibly bent

Im sure there is more when they take it apart.

That's why I have a 7mm 1903 Army Model C Mauser that I use to shoot deer.
Sucks about the car tho.
http://www.cardomain.com/ride/676422/1
If you cant find the matching color at the yard...you will still have to pay to paint the whole damn side of the car anyway, so it will still be just as expensive.

I agree on fixing it myself but i dont touch her car. I leave that to her dad and there neighbor mechanic. lol