I just left my gf's house yesterday. I wasn't even a mile from her house when I blinked, hit a rough spot in the asphalt, jerked it to the left, overcorrected it, hit an embankment, flipped it and slid. I wasn't doing anything wrong either. I was going no more than 45 mph, the speed limit, wasn't messing with my cd player or talking on my cell phone. It just happened so fast but was like slow motion at the same time. For those of you that have never flipped a car or been in a wreck, I hope for your sake that you're not. Thankfully I was able to crawl out of the passenger's window and run up to the road to flag down help and tonight I sit here with nothing more than some scrapes, bruises and being sore all over. On to the damage.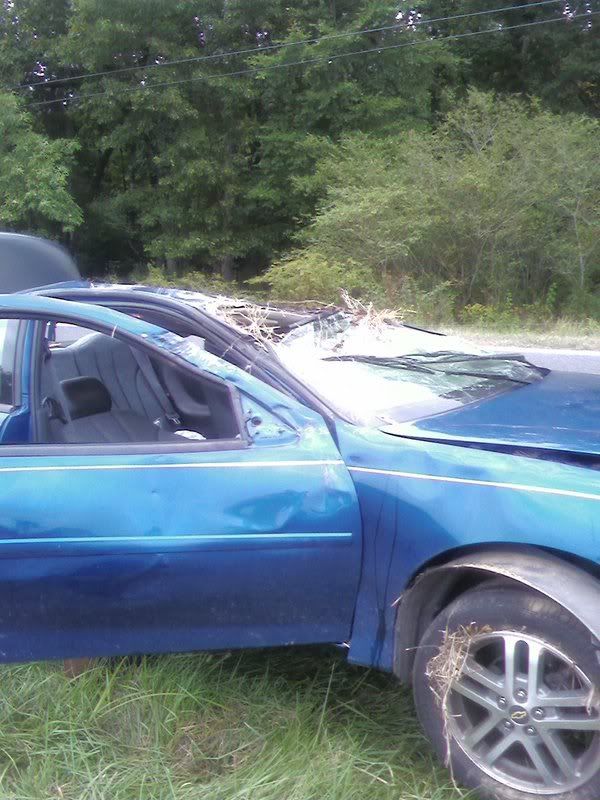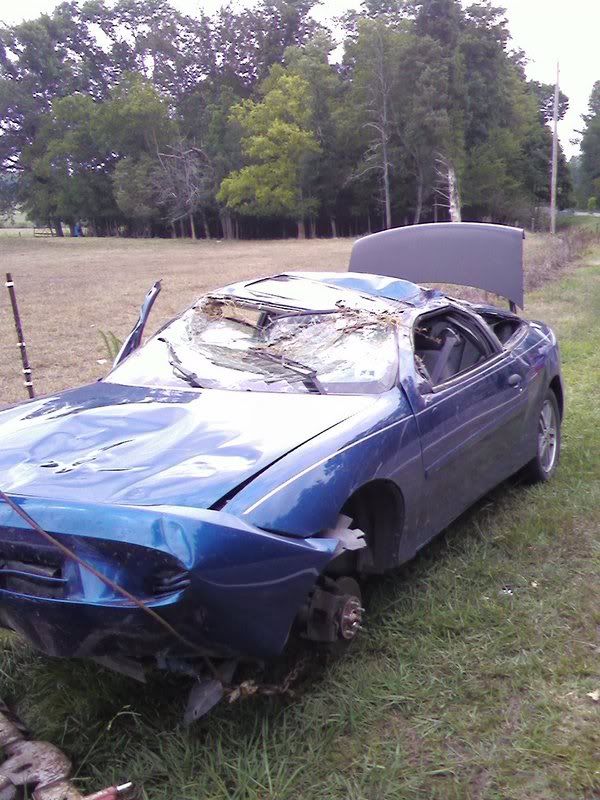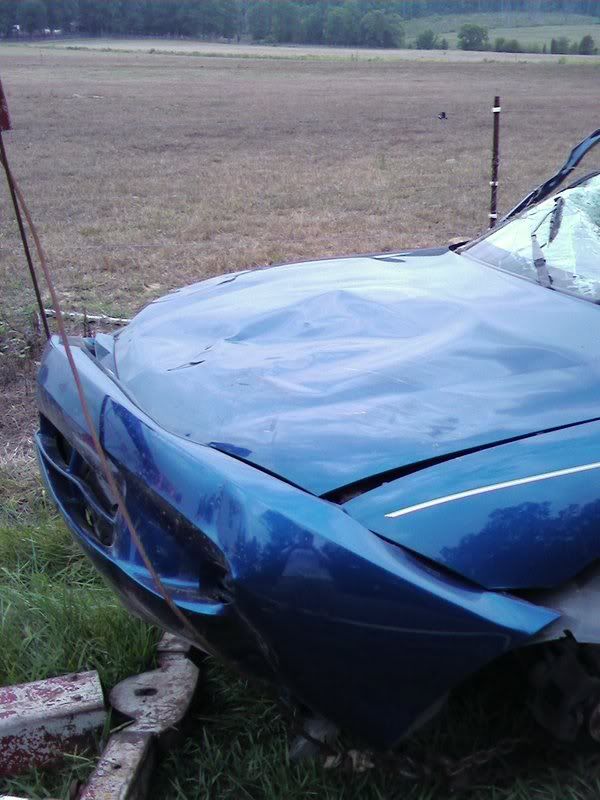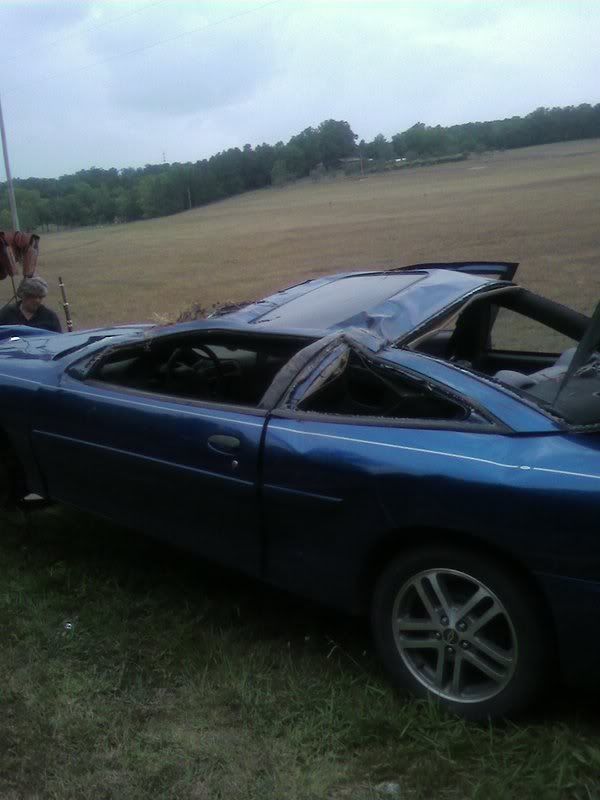 As you can see, the roof is touching the driver's headrest, the roof is crinkled up like a piece of paper along with the hood. One of the pillars broke in half, the front bumper is screwed and all the glass was destroyed except for the sunroof and to top it off the airbag didn't deploy which might have been a good thing. If I hadn't been thrown to the right the roof would've broken my neck or just caved my head in and there's no telling how bad it would've been if my seatbelt hadn't been on. Hopefully some of you can learn from this, I wasn't even driving like an idiot and I made a mistake and screwed my car up. I can just thank God that I'm only scratched and shook up.
I had something really funny to put here but it was too long.
glad your ok
crazy that the sun roof glass held up huh?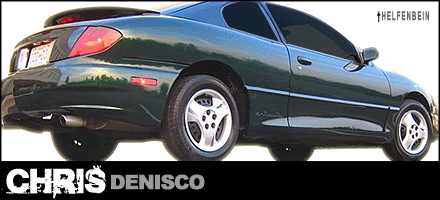 Yea, considering the car landed on the roof, I'm amazed it didn't shatter.
I had something really funny to put here but it was too long.
Damn man glad to hear your ok! so any plans for another car?
My car--->
http://www.cardomain.com/ride/2569452
good to hear your ok. had you not been wearing your seat belt you would be seriously or even fatally injured.
Quote:

crazy that the sun roof glass held up huh?

its pretty common for the roof glass to be intact after a rollover. ive seen cars come in with the roof crushed into the seats and the only glass left in the entire car is the sunroof. ive even seen cars rollover with the sunroof open and its still intact, but thats rare.
http://registry.gmenthusiast.com/images/my2005cav/my%20car%20the%20bash.jpg
Glad to read that your ok....
What kinda condition is the engine and interior in??
I'm not sure about the engine, the interior is full of dirt and glass, not really sure what could be salvaged, wasn't thinking about it at the time and haven't gone to grab stuff off of it yet. As far as another car, I'll be picking up a black 07 Cobalt LS tomorrow. Not the nicest vehicle but it's within my price range and the salesman is gonna work with me on getting some stuff from local shops covered by my warranty. I'll have pics of it up once I pick it up. When I can go get what I want out of the cav I'm gonna try to get my intake, shaved trunk, 02 tails and my Infinity door and rear deck speakers. All of that will be for sale along with other stuff listed in my registry if anyone is interested.
I had something really funny to put here but it was too long.
Are the visors in good condition/and graphite color?? What about the little plastic pieces that go where the seatbelts go into the door panel??
Would you be willing to grab them and ship??
Let me know either her or in a PM.
-Seth