Its actually been wrecked a few years now. I havent been on the org much at all really I just kind of lurk in the shadows and read. But back in 04 I totaled her ending my days of walking and driving the hell out of her. I wound up going out the back glass Im not a big guy but I am however 5'7" and 190 when I wrecked her. These pictures were taken shortly after I wrecked I have a friend who is a cop get me copies of the scene photos.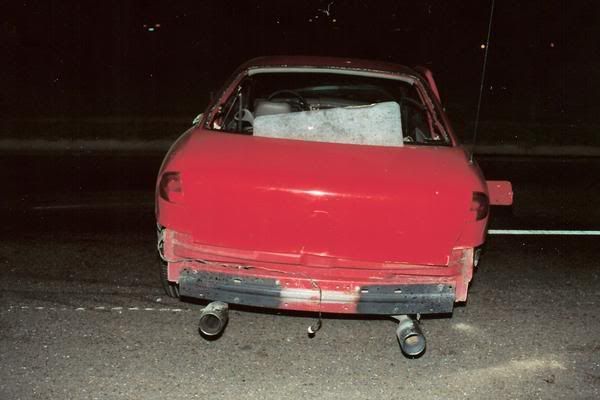 The huge dent in the middle is where my body hit before I went out the back glass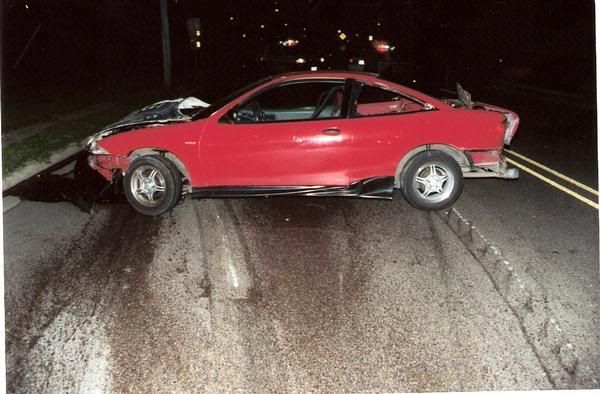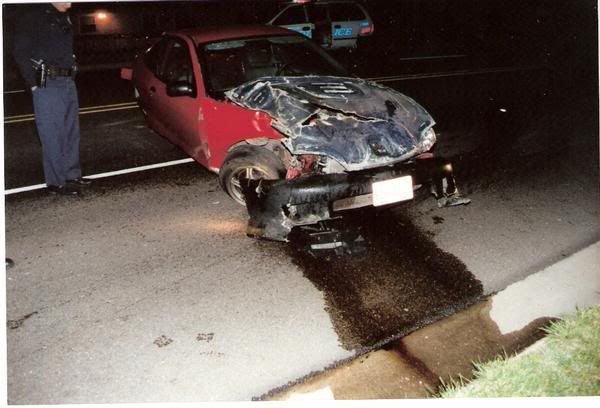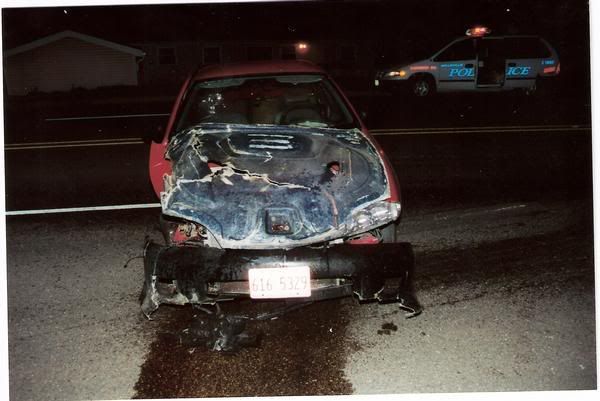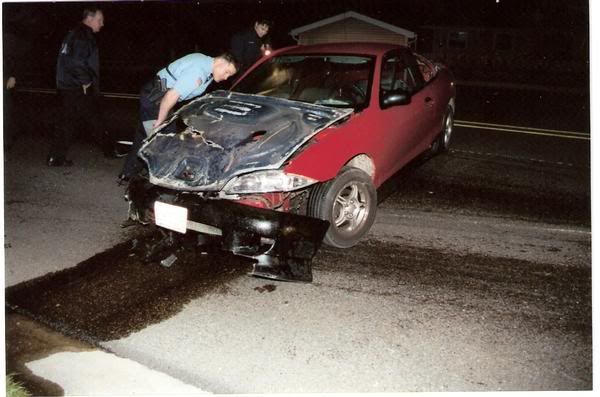 Damn it I had to re do it all cause it didnt post the images first time around and forgot the whole story of what went down the night I wrecked her.

Im not gonna lie to yall I was drunk as all hell when I did this I wrecked at 1am and had my tox screen ran at 5 now mind you thats 4 hours Ive been without any kind of alcohol introduced and I STILL had a .21BAC. Im not real sure how exactly the whole wreck went down I dont remember any of it. But according to the recreation of the incident I bounced my right front tire off the curb in my lane I from there wound up in a spin hitting a telephone pole on the opposite side of the street sending the car down the lane spinning like a top. Some where in the whole ordeal I wound up being ejected out the back glass. My car still traveling another 20FT without me in it. They say theat when they reconstructed the site I hit the telephone pole in excess of 90MPH.

Cars mods:
Class Glass dual heat extractor hood
Andys Autosport Streetfighter body kit
Shaved trunk
Lowered 2.5" total with the lowest pros I could find for my dinky 14s
Short ram intake
Header
Full 2.5" exhaust from the cat back with no resonator or mufflers

Nothin special I know BUT for a 2.2 my best time at the track was a 16.0 which I think is quick all things considered

Your lucky. Learn anything from it?? Glad to hear you are ok and didnt hurt anyone else.

learned plenty dont go to St Louis U when you have a severe car wreck but no all joking aside I learned my leason more than once over Everyday that I wake up I learn it all over again because everyday that I wake up for the rest of my life I am paralyzed and could have avoided the whole "shabang"

slick02eco wrote:

Wow.........
x2
Others might not agree with me, but I'm sorry that your "lesson" was you becoming paralyzed. The most important thing is that nobody else was hurt and that you still have your life.
Agreed most importantly noone else was hurt. If someone where to come to be in my situation at my hand of stupidity then I can tell you right now odds are I wouldnt have handled the guilt of it... but on a happier note Im begining to build a new J pulling out all the stops this time around Doing everything I wanted to do to that one...

wow thats really sad. sorry dude! on a lighter note are you gonna make your new j so that you can drive her or are you just gonna do a show car?
Oh fo sho I dont build trailor queens what the hell is the point only thing I have to do is mount a set of hand controls under the steering wheel. Its actually a pretty straight forward install of the hand controls I rotate the end of the bar for the throttle and push it forward for the brakes. But yeah will most deff be a driver thats show worthy...

thats whats up bro. @!#$ a trailer queen!!!
That sucks man...... I had a friend do almost the same thing some odd years years back in his Civic..... but he went through the windshield...... but somehow he actually walked away from the accident...
Al least your still functional in daily life.... it coulda been worse.... I wrecked my old Sunbird during a meet like 3 years ago (havn't posted in here) but I was sober and it was a freak accident..... hopefully your like me and learn to drive differently and be more carefull...
If you get your hand control car ready you should set it so you can safely take it to the strip..... it would be interesting to see..
Your right... hand controls arn't that complicated...... we have a golf cart at work setup like that for a guy thats in a wheelchair....
Good luck man...... and be safe for now on....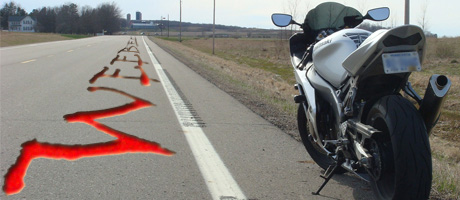 Yeah I plan on doing a 3800 swap... eventually... Ive been in love with that motor since my mom got a Grandprix GTX(SLPs version of the GTP) with the supercharged version in it right around when I bought my cavi but I can use my hand controls at the track actualyl quite easily Ive taken my van I have for my daily to the track for @!#$s and grins and I had no issues just had to take my chair out of the back cause it was loose in the van(astro w/ the 4.3) but I plan on using the same hand control setup my van has in the J

Sorry to hear about the whole situation,this is a good example to people on this site about drinking and driving.
It's really cool that your still going to continue modding a J and I'd love to see the whole setup you do with the hand controls,good luck with it all.

15.2@89mph 2.171 60ft. 9.830 1/8 R.I.P. "LULU"