I had just gotten out of work and was driving on the highway in the middle lane at around 2 in the morning this last Friday when I thought to myself "Hey, I should turn on my high beams". There was a car ahead of me though, so I didn't. Less than a minute later I hit something big and my car slowed down to around 40 whereas I was doing about 65 before. I said holy @!#$ and pulled over to the side of the highway with my car shaking like crazy. I got out and looked at the front of my car and my front right headlight was missing, and my left one looked a bit loose, while my front bumper was pretty much @!#$. I looked at the sides of my car and the roof, and the front was the only part that seemed to sustain damage.
I walked back a little bit after I put my hazards on to see if I could find what I hit, or the rest of my car, and I didn't find anything. I went back the next morning and found what I hit, it was in the median. He must have been running across the highway towards the median when I hit him in the center lane and literally punted him to it. At first I thought it was a German Shepard, but once I got close enough I could tell it was a wolf. Insurance is going to check it out, but just from me limping it home, I can tell that besides the cosmetic damage and the radiator being bent, that at the very least my alignment is totally @!#$.
My father tried to take it down to the claims adjuster today, and when he started it up he said it was sounding weird, and the CEL went on. I'm thinking it has something to do with the radiator (hopefully). The claims adjuster will be coming down tomorrow to check out the damage since we can't drive it there.
Anyway, I finally got some shots of the car today, so I figured I'd post this up and let you all see.
It was starting to get dark out by the time I got out of work, and the flash would have been @!#$ty so I didn't get super good shots, but it shows the damage pretty well. At the very least, I had some spider cracks from some idiot hitting me while I was parked, and also a burn mark caused by a muffler because a woman backed into me with her van, so that'll be good once I get a new front bumper.
Following is a link of the picture of the wolf. I'm linking it so nobody has to view it if they don't want to. I had 2 more, but this pretty much shows all there is to see.
http://img168.imageshack.us/img168/7798/wolfxu2.png
Sucks to hear, hopefully you get it all taken care of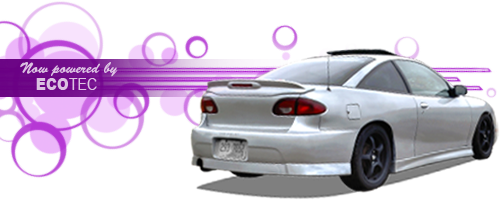 Way to screw up the wolf population. There are like 3 wolves in the U.S. now there are only 2 lol. Sorry to hear about the car hope you get it all fixed
Thanks guys. I actually feel bad for the wolf. Why couldn't he have sniffed that tree for those extra 20 seconds? WHY!?!?

So I just got a letter from the insurance company. The total price for the damage is around $3600. I'm not sure why it's costing so much, and I don't really care. I just want my car to be back the way it was as soon as possible. I miss it

I had the list of stuff, 56 different items at least. Apparently the labor is going to end up being more than 50%? I have no idea how that works out, but it was a lot cheaper when I looked at the quote for just the parts. I should have my car back by Wednesday. I'll be pissed if they give me a pre 2000 bumper, or a plastic one.
atleast you werent driving drunk in a brand new benz amg S63 designo(150k+) , that you hadnt had for 24 hours yet and total it because of a wolf , it actually happened to some lady in cali , and she ordered up another S63 the same way
Okay so apparently there was a misunderstanding. I'm not getting my car back for 2-3 weeks

Alright well, I just got my car back, and the body shop did a ridiculously amazing job. It looks better than when I bought it. They painted @!#$ they didn't have to paint, they fixed my ebrake (it was loose before), and even trimmed my intake hose

I'll get some shots up when I can get a camera.
cant wait to see pics... i bet it looks sexy again