QUAAAAACK!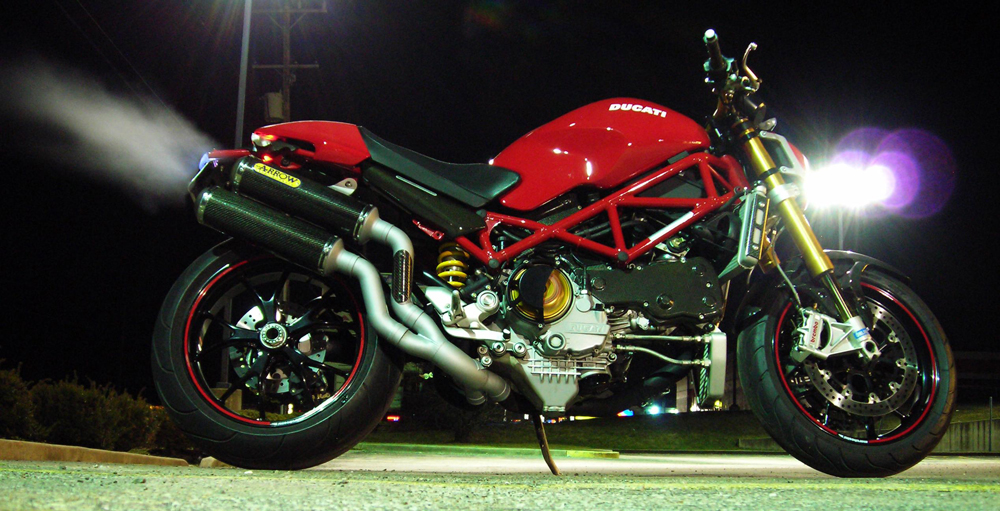 Sold the V-Rod in November and picked up this bad boy. I've wanted either a Monster S2R 1000 or an S4RS ever since they came out, finally found one close to home, and promptly scooped it up. Simply put, it's ridiculous. I could type out a few paragraphs of why that is, but there's no need to. Think of everything that makes a Lamborghini what it is, and that's this bike.
And where are the videos?

Siiiiiiiiccckkkk!!!!!!
Not unintentionally accelerating since 2009!!!!
Omg that pic just made me want a bike again wow dam thats hot.
see ya!
That thing is sick. I am assuming it is the S4Rs? (since I see a radiator, lol) Very nice.
Yes, it is an S4Rs. I work at a Harley dealership and I put it on the dyno - 122 hp, 70lb-ft. The torque curve goes from 60 to 70 from 4K to 11K RPMs - basically it's not a curve, it's a plateau. I've already wheelied third gear accidentally. It's without a doubt the most fun bike I've ever ridden. A 1000 4 cylinder will eat me in a straight line, but this thing just reads your mind through the corners. The previous owner had the suspension dialed in for his weight, which is about the same as my weight, and you can tell. No pogo-stick feeling over rough roads, it doesn't dip or dive mid-corner, it just plants itself and grabs. Probably doesn't hurt that Ohlins is top of the line stuff either, three of my previous 4 bikes were worth less than the suspension on this one. It's also very comfortable for distance rides, much more so than my V-Rod was. I rode home 120 miles in basically a downpour and had no sore body parts at all. On my V-Rod trying to ride on the highway was futile - your inner thighs would cramp up from trying to keep your feet on the forward controls. The Duc is very neutral, you can sit straight up, lean forward, hang off the side, basically any riding style you want you can do. The rearsets are more forward than a faired bike, so your knees don't cramp up. I love it.
No videos yet, when all of my other friends get their bikes out for spring I'll get some clips of that nasty coffee can of bolts clutch noise.