Ok, I have a friend with a 2000 grand am GT that has the 3400 SFI engine in it. He took it to a shop and the shop said it had a blown head gasket or possibly a cracked head...wanting to get your opinions..as I do not think that is the case. It has no loss of power, no problems idling, no missing at all, no water mixing with oil. AND he lives about 25 mins away from work, highway driving the whole way, he drove it to work one night, it has about 1/4 of the coolant it should if that, so, hardly any coolant, and got to work, one of his friends has the same car, asked him when he got there what his temp was, his friends was a mark above 210 and he had been sitting for a few mins, and my friends, a mark below....so he was running COOLER....which I thought was odd. He did run heat the whole way to keep fans on, but, still odd. Any ideas on what it could be? It defiantly doesn't sound like head gasket to me. Any help is appreciated. Thanks!


"Hondas are like tampons, every pussy has one!!!"

Any type of coolant loss issues without a leak and any kind of cooling concerns out of a 3400, the very first thing that comes to mind is the lower intake gasket. So common, I'd do it even if it wasn't the issue.
(tabs) wrote:



z yaaaa wrote:

its not much fun trying to argue with a wall.

oh, trust us, we know
It was actually done not long before he bought the car. They drove it after they had it done like 6 months, maybe more, with no problems...but, im thinking, maybe the guy didnt know what he was doing and it went again or something? Strangest thing is, no misfire....and there is coolant sitting in the casting dip" i guess you could call it on the trans. where it is common for the lower intake gasket, but, i cant tell if its from when they did it before, or new or what....guess ill have to throw coolant in, clean up that area and watch it as it runs and see wheres its coming out of, if it still is.


"Hondas are like tampons, every pussy has one!!!"

Crappy Hawley sets don't last long. Bottom line. Redo it or have it redone those engines are excessively notorious for that. You just explained the symptoms of my dads impala to a t.

I have seen the intake manifold gaskets leak a year after being redone. For some reason they just don't hold up sometimes.
2009 Ford Mustang V6
If you replace them with the right higher quality one and torque everything down right, it shouldn't leak again....
(tabs) wrote:



z yaaaa wrote:

its not much fun trying to argue with a wall.

oh, trust us, we know
felpro makes a one piece gasket also. is it bubbling out of the coolant bottle? if so it could be a cracked overflow. in the area of the trans is also the thermostat housing an radiator hose. throw a pressure tester on it see what happens.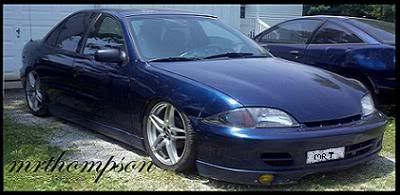 My little bro's 99 Alero ate a few overflow tanks. Just something to think about.


"Project 69'"
1969 Chevrolet C/10, 1/2 ton, 2wd
-Boosted LS1?
-Richmond ROD 6-speed(will get sometime)
-Posi 12-bolt(built w/eaton posi unit and richmond 3.73 gears)
-Disc brake and 5 lug swap
+little extras

Ok, new update....last time we took it out, it was cold, and winter, last night we filled it with coolant, took it along the same path to work and back....it got to about 230 degrees temp, within about 15 mins of driving it. Had the heat going to keep fans on, BUT the air coming out of the vents, was cold. lol. It never acted up as far as misfiring or anything.

After work, went on a back road, was going about 45MPH, temp was at 230 degrees, punched it, got to 65MPH, so obviously, not into the throttle long, and the temp gauge pegged at 260, light came on, started dinging, within 2 second of letting off the gas, the temp was back down to 230. Parked it a minute later ay his house, coolant in the overflow was boiling, and you could see where some ran out overflowed. But, NO coolant leaking. No loss of coolant, no power loss, no fluids mixing, nothing.

Im thinking maybe when the mechanic did the thermostat before it was a bad tstat? Water pump? The water pump, lower intake gasket, radiator and tstat were done not long ago. Which the guy that did it is the same guy that said it was a head gasket this time....doesnt seem like a head gasket at all to me though, so maybe he didnt know what he was doing completely?? Any suggestions are appreciated. Thanks again!


"Hondas are like tampons, every pussy has one!!!"

same suggestions just adding in to bleed off the system. if you encounter the same thing in the over flow replace it. the one out of a 99 cav will work also. usually cold on the inside means air in the system.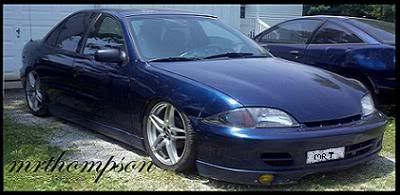 Put dye. In the coolant, let it run, then pull the plugs, and use a blackight and that will answer the headgasket question.

Also, check the water pump and bleed the cooling systm repeatedly, sometimes these are a bitch to get all of the air out. If it were me, i'd replace the pump since theyre cheap and easy to replace anyways. Replace the rubber bypass hose too.

Currently #4 in Ecotec Forced Induction horsepower ratings. 505.8 WHP 414WTQ!!!
Currently 6th quickest Ecotec on the .org -12.453 @ 116.45 MPH!!!