Just bought a 97 eclipse and was just curious if anyone knows of a good forum.
I never understand why people come to jbo for alternet platform forum info when google, and yahoo or whatever search engine will yeild the results you seek.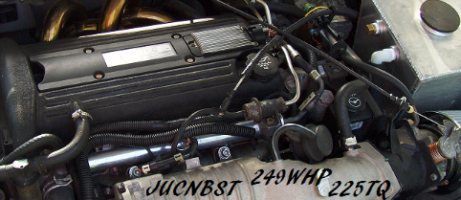 i did google..i found a few...but just like jbody for example its the best jbody forum and is very active....id like the same in a eclipse forum...i figured a few people on here own eclipses as well thats why i asked...
dsmtalk.com
dsmtuners.com
for local dsm
Sedsm.org
if it's not a turbo dsm talk won't really give you much advice. They are douche bags sometimes
all i can say is beater car...til i can save or sell and get alot better
My advice is, if you don't have money set aside, DONT dump money into it.
My dsm dynoed at 479 AWD HP and it fookin booked, but it cost me about $4k initial and it broke EVERY GADAMN MONTH
when i sold it, i had over $1,200 in towing reciepts
well i have 800 left plus the fire has a buyer for 700 plus i got 900 in school money comin.lol been seriously thinkin of goin for that 00 5sp z24 vert i found.........as for the eclipse i got a awsome deal on a cf hood,halo projectors.stock taillights and a bunch of misc parts for 100 bucks i dont plan on buildin it and mainly just getting it running good and looking good...the most i may do is repaint it which ill do all that myself so id just have to buy supplies..if worse comes to worse i could prolly get my money back from sellin the rims,parts and scrap metal from it...