Canon 7D
Canon 50/1.4 USM
Canon 28-135 USM IS (Kit Lens)
Sigma 10-20 5.6 (Rig Shots)
Canon 580EX Speedlight
Canon 430EX Speedlight
POS Tripod
Go-Pro Hero HD for video clips on car
Lightroom
Photoshop
Sony Vegas
Your photos have definitely come a long way! Loving some of the new stuff man, and the Elise is cool! Got any plans for it?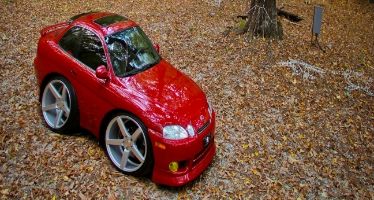 Flickr Photostream
Facebook
Twitter
EVERYTHING!
Well Similar to the S2000. Boost, Diffusers, Side scoops, seats, Lip, ect
Post pics of the Sunfire, I'm drawing blanks on which one it was.
That pic of the front end of your black Z was my desktop wallpaper for the better part of a year. That thing was amazing, I just wish I could have gotten the wheels from you.
R.I.P. JessE Gerard 7.11.87 - 1.25.08
The Radiation Nation
Facebook
Twitter
Twisted Metal Alliance
Thanks, I am at work now and dont have access to my pics at the moment. The Sunfire was a Frankenstein RX8 headlights, custom widebody, lambo doors, air ride, custom sub box, 03+ Fire tails, Celica seats, and a ton more. It never made it to the finish line only a scrapyard.
That's gotta be an awkward decision to send a car with that much work into it to the junkyard. It'd feel like shooting myself in the foot.
I'm def wanting to see some pics, though. I've seen numerous bagged and slammed Sunfires in my day, and it never gets old.
R.I.P. JessE Gerard 7.11.87 - 1.25.08
The Radiation Nation
Facebook
Twitter
Twisted Metal Alliance
I remember the crucifixion you had on the other thread. lol
All I saw from them at the time...
Either past and present... all the photos were well done, very artistic and now with hotties are a plus. Continue the good work man.

>>>For Sale? Clicky!<<<
-----The orginal Mr.Goodwrench on the JBO since 11/99-----
Have you always be in the Midwest? I had no idea till this thread, I'm a KC guy myself
Nice pics! Bring those cars/women up to Omaha!

Oh hey, sorry keep forgetting to post pics when Im home. Sucked junking the carm but I grew out of the direction I was in anyway. Grabage is Garbage. Car was gutted pretty well though.
I have been in the midwest for 3 years (almost to date) I used to be in Florence/Myrtle Beach, SC then I Enlisted. I am now stationed at Whiteman AFB and spend pretty much every weekend in KC.
If you are in KC and have seen an exotic then chances are its one of the guys I hang out with.
My shoots should be making another +5 with the replacement and upgrade from some damaged gear.
On the docket for the next few weeks includes 4 new girls, a friends Nobel M12 GTO and Porsche GT3 EVT 750. Another Adventador, and a new Ducati 1158.
Gotta pay a damn $350 ticket I got friday then Ill be working on a new daily again so I can get back to modding the Lotus.
Shots with the new lens...
http://thechazz.com/?p=9634
FB Low res pics, see link for HR:
And new set of my buddys 570WHP stock block S2000 on a 1500 Paxton. Will be 600+ by end of summer.
(Lightly Chopped in this shot)
(Custom widened stock wheels to run 275's, full Wilwoods, E85)