You may have seen this on Jalopnik or the Today show, but if not: This happened in Chicago the other day.
http://www.youtube.com/watch?v=XL5vI0ktZmM
At 1:58 into the clip, the Murano slams into my brother's 1992 Achieva SCX. The rear axle looks like it took the force of the hit directly into the curb. Ouch. Its painful to watch!
And here's how it sits today.
He's currently awaiting insurance stuff, and the car suffers rear axle / bearing noises, a smashed quarter panel, and even the front alignment is messed up. A sad end to such a great little car he's had since he started driving. Just wanted to share this with you guys. I'll stay in touch, and hopefully we can keep this one on the road. It was fairly clean and he's kept it up over the years. I hope the insurance people take that into consideration. Here it is a few summers ago.
I just watched the video...and was like. hum an Achieva....now I'm angry that is was a SCX that got hit.
wtf

Either that's somebody that's never driven before or a senior citizen that needs their license taken away. Hope your brother can get the Achieva fixed.

good thing it was all caught on video, should make the insurance process a whole lot easier, still sucks though
Skr8 Goodz in tha hood
Whats the story of the idiot? Dang.

one more reason i hate chicago.. good news is it doesn't look like it needs to go to the junk yard, if they total it buy it back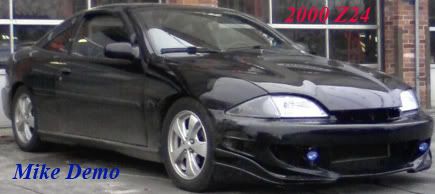 What I remember, the Murano first hit the Camry Taxi and was attempting to flee while the taxi driver tried to make him stay put. It wasn't till the driver hit the window the teen driver freaked out and you saw what happened.
"United by Individuality"
"If life is a joke, why aren't we laughing?"
"Normality depends on one's perception of reality."
http://www.cardomain.com/ride/3820803
Well, its been settled. Car is totaled due to damage beyond 80% of the car's value. It needs a quarter panel, some bodywork, a bumper, exhaust and bearings on each side of the rear axle. Guys, I'd love to buy it back...but we have no place to store it and my brother really needs a car to get to work. Sadly, that's the priority right now as much as it pains us to see this piece of history go. I've posted the auction information below, and I'm posting in the hopes that someone can save this car. Its being picked up tomorrow.
Place: The Achieva is going to Insurance Auto Auctions
Location: Chicago West Yard: Aurora, IL.
Stock number: 12294927
https://www.iaai.com/Auctions/Branch...branchCode=511
Phone: 630-896-5300
Someone please buy this and save it from the scrapyard. Thank you for your interest and advice through this process, its been appreciated. Should someone on here purchase the car, we'd happily provide any info we have on the history, and what's been replaced on the car to date.
__________________
Thanks for the update.I can understand the need to take the payout and move on and good luck finding a good ride to takes it place.I guess the age of the car kind of kills the expense of fixing it over value of the car.I soon will be adding classic car insurance to 2 vehicles I have to insure for actual value of the ride over general book.