protomec wrote:

I have no idea what the Dyno sheets are supposed to prove, because they do not prove the PCM was reflashed.

Here is the list of included parts for the RSM SC kit copied directly from their site...




Supercharger Kit


Includes Vortech Supercharger, all brackets and oil lines, belt and pulleys, ECU programming, adjustable blow-off valve, FMU, induction piping and K&N cone filter. All the parts needed for the install are included in the kit, no extras to buy, 60 HP gain at 6 PSI with no other mods.


Available for Ecotec, 2.4L Engines




Anyone want to hazard a quess as to why the A/F ratios changed with the S/C kit installed?

Please post a pic of your engine with the kit so we can see there's no FMU.
.
I installed the kit personally at the dealership i worked at at the time... There is no FMU.... If you still dont believe me just go to my cardomain page.
Granted, a FMU is installed but i was told that even at RSM racing they only use the FMU on the 2.4's
<img src="http://memimage.cardomain.net/member_images/3/web/831000-831999/831395_11_full.jpg">
Although... i had always wondered why i could only get a 14.6 outta my car.... Oh well, Audi will be inspected on monday, and as soon as its gone ill have many goodies on the way to solve these issues.


<img src="http://memimage.cardomain.net/member_images/3/web/831000-831999/831395_11_full.jpg">


Thats about what most J's will run with around 180whp, theres nothing abnormal about that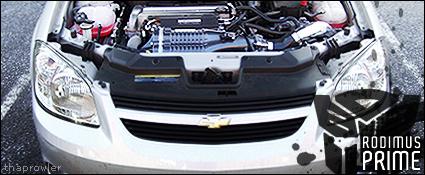 1989 Turbo Trans Am #82, 2007 Cobalt SS G85
Either way, i still dont see how the dyno sheets dont show anything... Weather or not the Tailpipe sniffer is accurate or not, its definetly not that far off... And both dyno runs were dont at the same dyno, same exact car setup and everything.... When i get the HPtuners i will pull my settings and e-mail them to you so you can check them.... If im wrong, then i apologize... But i just cannot believe that my PCM wasnt in some way reprogramed... Wether or not it is an ideal reflash is irrelevent... The fact is it had to have some kind of reflash to drop the a/f ratio like that. Also ive had the kit on there since 25,000 miles... I now have around 55,000 and havnt had any problems... Redlining the car multiple times each day.


<img src="http://memimage.cardomain.net/member_images/3/web/831000-831999/831395_11_full.jpg">


When i get my HP tuners (hopefully within the next 2 weeks... depends on how fast the Audi sells) I will compare my 04 Reflash to my brothers 03 Stock PCM... Then send both to Matt, then we will have 2 "Reflashed" PCMS and 2 Stock pcms... Should be a better judgment to the final answer.


<img src="http://memimage.cardomain.net/member_images/3/web/831000-831999/831395_11_full.jpg">


i do now have a stock 04 file, so whenever your ready ill compare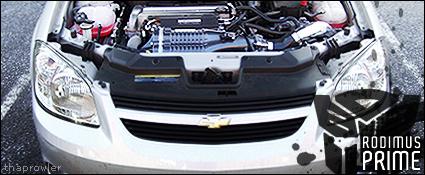 1989 Turbo Trans Am #82, 2007 Cobalt SS G85