i JUST WANTED SOME EMANAGE MAPS FROM ANY BOOSTED J'S OUT THERE.Need an idea to know were to start. Also anyone know why the car will bog when going into boost?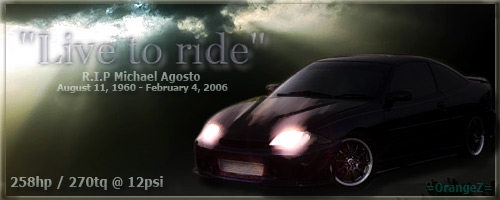 Getting maps from someone else is really going to do nothing for you besides cause a big headache. Every car is going to react different.
As far as bogging into boost, I would be careful.
Do you have the 3 bar map sensor for the emanage? If not, get it before you do anything else.
Later,
Jeff
--------------------------------
2000 Turbocharged Silver Z24 5spd
Cardomain Site
Yes i do have the Greddy Map Sensor. It bogs when i floor it but if i go half throttle its fine goes into boost pulls slightly and goes through the gears i got the plugs gapped at 34 right now.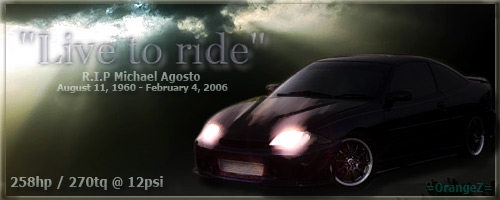 Hmm, what plugs are you running?
Also, what maps are you using, just the a/r map or are you also using the additional injection map?
I use both on mine and when the 2 bar sensor I have goes out of range, the crossover to the greddy 3 bar is smooth.
I am actually reading off the 3 bar around 10psi just to be sure the crossover is smooth and have not had any problems yet.
What size injectors are you running?
Just trying to get a bit more info to see if I can help.
Later,
Jeff
--------------------------------
2000 Turbocharged Silver Z24 5spd
Cardomain Site
What i have for fuel is 310cc injectors, i have a fmu on the line but i had that before the emanage so i just disconnect the vacuum signal.I have ngk tr6 plugs and i have the msd inline pump not connected either.And for the maps all i have set up it the boost cut limiter at 4.8 which is what another member told me. The wastegate is at 5 psi so i would think i should be able to handle that with stock fuel.Should i set up the addition injection map and the air map if so were should i start maybe an idea at diffrent rpm's Were is your set at. What i want to do is to be able to floor it and it go not till redline but enough to know all it need is tuning before i bring it to the dyno. I dont want to bring it in and they have the same issue when it goes into boost and charge me a arm and a leg. Thanks.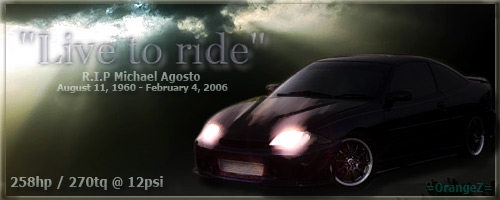 Well, on my AR map I have the RPM's set from 2000 - 6300 and the TP from 30 - 100, but you might want to set yours at like 1-100. Upper left corner I have 1 and lower right I have 46, but that might not work well for you. You can try it tho and see. Watch the wideband close and see if it leans out or if its too rich. I would guess it will be too rich with only 5 psi.
On my Add Inj map, I have it set in kPa, start yours from 0 to like 100, this is similar to 0psi to 10psi if you want to know how to read that value. On the RPM I have it set from 2000-6300 again. My values are going to be a lot different but in the upper left I have 5 and the lower right I have 55, but your values will be much lower as if you use my values it will be WAY rich on your setup.
Far as the ES values, I have TP at 2, rpm from 200 to 800, and clamp at 2.0 down to 1.30, but also remember that I am using the gm reflash and 2 bar map sensor, so your voltage clamp might be different.
Far as timing goes, I have the value at kPa once again, ranging from 0 to 180, or 0 psi to 18psi as I had it tuned for 16psi on this map. Rpm was once again at 2000-6300. Upper left value was 1 and lower right is at -5.
I dont know how much this will help you, but that is a rough idea of how the maps might look.
**********ALSO, just so you know, you have to highlight the whole map and then Interpolate the values so that they transition through the rpms if you didnt already know!***********
Need more help, let me know, I will check back on here later.
Later,
Jeff
--------------------------------
2000 Turbocharged Silver Z24 5spd
Cardomain Site
Hey that what i needed an idea were to start the maps. I will tune for 15psi but for now 5.5psi is the spring i have i the gate. I guess i should completely eliminate the fmu from the fuel line right? Thanks for the help.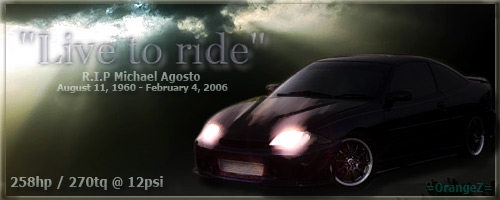 Yea, I would get rid of the FMU, you will not need it, and you can get rid of the inline pump as well. I would just go with an upgrage intank pump. Stock pump will be more than enough for your low boost, i ran 13.5 psi on a big turbo on stock pump, so it can take a beating. Hope that helps ya some.
Later,
Jeff
--------------------------------
2000 Turbocharged Silver Z24 5spd
Cardomain Site