Well I had the opportunity to take leave 2 weeks ago; while I was home I had to opportunity to use my dads shop's OTC genius. Here is what I found.

Ambit air temp. 75
Humidity. 62

Cruising around at 2-4 grand, timing was sitting around 26 adv. with a Air \ fuel or 14.6

As soon as the car saw 0in\HG. (Atmospheric presser) the timing jumped to 12 adv. and fuel jumped to 12.7:1.

Doing a hard pull from 3- 6500 in 3ed fuel never leaned out more than 12.8:1 and timing sat around 12 adv. Every now and then I would hit 2 degrees at a time for knock retard, but I never when past 6 degrees of spark retard.

All things considered I think GM did a good job with this re-flash, considering Iíve got a 2.7" pulley and a stock fuel pump.

Just wanted to share my findings.

(Brian my phone's broken, ill try to email you)

Chris



'02 Z-24 Supercharged
13.7 @102.45 MPH Third Place, 2007 GMSC Bash SOLD AS OF 01MAR08


yeah but your car is kinda a freak. I mean you put down 205WHP with the stock pulley and afew minor bolt ons. What is that in your profile about an updated reflash?


2006 Black Cobalt SS Supercharged G85
13.91@102.77

the dealer that did the re-flash said there were 2 avalable for my car, one was newer than the other... we tryed both, the first one was "lagie" at 3-4K, then would feel good to 6500, the new"er" one it just felt like i added 2 liters of displacemnt to my car.

keep in mind this was 2 years ago, so my updated flash may be the normal flash for the charger now.... sorta like how there were updates for GM E-Proms.

as far as mods,,, a ebay RK header, puller boys 2.7" quick change pulley, 2.5" full exhaust, dynomax bullit muffler for a resonator, and a dynomax muffler.

i was thinking i would be leaning out, the one thing im still wored about is if im exceading the duty cycle of my injectors... im thinking on using the stock 2000 and newer GTP peakel style injectors, as thay would be a direct replacement, how ever thay flow 360 CC's
( i think thats the number )

Chris


'02 Z-24 Supercharged
13.7 @102.45 MPH Third Place, 2007 GMSC Bash SOLD AS OF 01MAR08


Good info, Taetsch Z24
___________________________
MAKING MY DREAMS A REALITY
Visit my cardomain site !!!
ELIOT. Now.....boosted.
Taetsch Z24, do you had the opportunity to check out intake air temps?
Could be an excelent info to make some plots, using RPMs, Boost, A/F ratio, IAT temps and timing info. That will inform us the main ECU process due to boost signal.
___________________________
MAKING MY DREAMS A REALITY
Visit my cardomain site !!!
ELIOT. Now.....boosted.
thats a very good afr #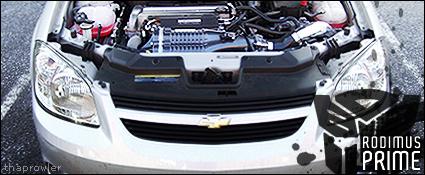 1989 Turbo Trans Am #82, 2007 Cobalt SS G85
Taetsch Z24 wrote:

the dealer that did the re-flash said there were 2 avalable for my car, one was newer than the other... we tryed both, the first one was "lagie" at 3-4K, then would feel good to 6500, the new"er" one it just felt like i added 2 liters of displacemnt to my car.

keep in mind this was 2 years ago, so my updated flash may be the normal flash for the charger now.... sorta like how there were updates for GM E-Proms.

as far as mods,,, a ebay RK header, puller boys 2.7" quick change pulley, 2.5" full exhaust, dynomax bullit muffler for a resonator, and a dynomax muffler.

i was thinking i would be leaning out, the one thing im still wored about is if im exceading the duty cycle of my injectors... im thinking on using the stock 2000 and newer GTP peakel style injectors, as thay would be a direct replacement, how ever thay flow 360 CC's
( i think thats the number )

Chris
Where did u get teh 2.7 pulley? And what belt size goes with it?
Nate
Evolution of Cavyboy-->C22t--> C24na--->c24s/c
1995 Cavalier W/2k1 Engine
GM S/C 13.940@99.78pmh w/2.068 60ft
the intake air temps i was geting were around 170.

im using the stock belt, ( took the goodyear belt 10 ply and cut it in half, ) and a larger idler pulley,

my stock pulley borke and i replaced the bearing and hub with just an over sized bearing, works great and no belt slip... ive also have 80K on the car... 50K on the blower.

the over drive pulley is from pulley boys, you can get it from partsforyourcar.com

agane, i just wanted to let you guys know what i found.

Chris


'02 Z-24 Supercharged
13.7 @102.45 MPH Third Place, 2007 GMSC Bash SOLD AS OF 01MAR08


170 degree's on intake temps. wow

must mean my water injection kit is working. what i see at WOT is 120 ish. today i seen 140degrees, but it is like 75ish outside. but i am running the stock gm s/c pulley.

i think my timing is around 17 degree's advance. i will watch that more also. i dont have the reflash though.

i will keep a eye on my auto X ray scan tool for more #'s

thanks for the info.





just in case any one needed to know.


i got the same number with the 2.5" pulley and water injection..... but 15degrees avd, and 75 degree intake temp


mutch better, just wish i could add some timing, off boost its at 28 degrees.

Chris


'02 Z-24 Supercharged
13.7 @102.45 MPH Third Place, 2007 GMSC Bash SOLD AS OF 01MAR08