Everyone says running boost on an alpha-N stock tune Z24 is bad. I agree however I have not had an option to switch operating systems to speed denisty until now.
Well I finally have HPtuners, 2 bar map sensor, and 2 bar histograms (thanks cory).

I was hoping to have the LSJ injectors but still no luck on that yet. Bad luck is my second vehicle.....the GTZ had a snapped shift selector cable go out. So now until I fix that I can not park the Z24 and modify the fuel rail if I even had the LSJ injectors.

So my new question....as others have seen my original...now will I be fine with the stock skinny LD9 injectors, 2 bar map, and GM reflash....will it be safer with this "TEMPORARY" set up than the Stock alpha n tune on boost?...at least until I get the GTZ fixed and get my hands on the LSJ injectors.

Im assuming simply changing the injector constant back to stock will help simply causing the injector duty cyclce percentage to increase ....IDK but big help needed here. Will I be in a better position with that setup versus the stock tune on boost.


GMR has got nothing on this

What exactly is the fuel system setup?
You can't get any of the GM 310cc injectors the M45 kit came with? With those the reflash the car should run ok.
FU Tuning
Stock and no

GMR has got nothing on this
lsj injectors are a dime a dozen on cobaltss.net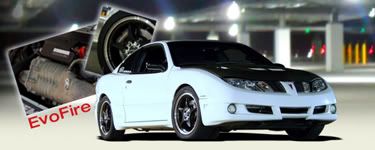 I think I have some 310's I could sell. I need to double check but pretty sure I do. I also believe I have some LSJ's as well.
Also to mod the rail the car does not have to be down for days, more like a couple hours at most.
FU Tuning
Right but I cant have something go wrong...and we all know something sometimes go's wrong. And since my back up the car is down I cant risk it you know. But how much for the injectors?


GMR has got nothing on this

I have some new ss injectors flow tested In the classifieds

what exactly is going to go wrong on sloting the holes?
First time I ever did this I did it on the car. If you did not finish you can still run the stock injectors. This mod will never keep you from going backt o 100% stock.
I really think you are mkaing this much harder than it really is.
If it is that big of deal go to the junkyard get another rail and modify it.
FU Tuning
I agree. Well I called my friend and he "FINALLY" went through his garage boxes and found the 42lb GM stage 2 injectors and ZZP Seimons 60lb injectors. So I cant wait for tomorrow to begin the upgrade. Tomorrow I will be installing a 2 bar map, switching operating systems on the PCM (speed density), and installing 42lb injectors
I am curious though as to the increase in injector duty cylce on the stock LD9 injectors with the mods listed above. Considering the M45 injectors where what....36lbs. None the less I will leave that to someone else to experiment with.
I also have a big plenum intake manifold with the LS1 big throttle body....Im not sure if its to big for this current setup. Not sure if I want to install it "YET"
Well time to gather my new injector constant

I will keep ya'll update. I hope to notice a big gain.... especially during acceleration.
GMR has got nothing on this
Hmm.. this should be interesting.