Okay so i have a 1996 Chevy cavalier with the 2.4l
Its got its shair of mods. Intake, Secret Cam's, port and polished head, header, Stage 3 Clutch, full exhaust, Gutted A/c, Heated O2 Conversion.
On the list is stiffer mounts engine and trans, turbo setup, Underdrive Pulls,
now i know 96 is obd 1.5 GRRR so i need to go to 97 ecm well all the local junk yards only have 98's with the 2.4 will this work is the computer and harness the same?

if i go swap ecm and harness am i going to lose any functionality?
How how is hp tuners to use?

Curious without a tune could secret cams have droped me from a 15.3 to a 15.7? i would be happy in mid to low 14's thats the goal just enough to beat most of the rice burning honda's at the stip

I don't believe the 96 is the ODB 1.5 computer. You can test by going to Autozone, or Advance auto parts, and asking to use their ODB2 scanner for free. If it's able to connect to your computer, and read anything, then you have ODB2. I have a 95, and for sure mine is 1.5, since I haven't found a scanner out there that talks to an ODB1 computer, with an ODB2 diagnostic port under the steering wheel.
FYI, the 96 computers have 3 plugs on them. And the 97+ computers have 4 plugs, so whether it's 97 or 98 ECU, you're going to have the same problem. you'll need a 97+ Engine harness. I'm not sure how the Engine harness connects to the inside electrical, and whether that's compatible or not. Hopefully, someone else can chime in on that point.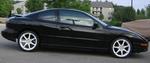 i just figured it was 1.5 since my 96 beretta wasnt tunable because it was 1.5 never had a cel light to need to scan it.. either way i know harness needs charged or repined no biggy. i just want to make sure 98 is same is 97 everyone says 97 swap never seen 98 or 97+ so just want to be sure.

All I know is that the 96 is the year that wont work with tuning software. I used a 97 ecu and wiring harness but if im not mistaken the 98 will work also, but not the 98 with digital odometer. You loose functionality in the 98 99 cluster with digital odometer.
i'm in the same boat, have a 95 that is in desperate need of a tune and I have nowhere to get any info/work locally...sux
I do know there are a few different sensors that the 98 has the 96 may or maynot have, the 96 has an egr i think so thats good, and I'm pretty sure the CMP too so thats good for you, and yeah i'm thinking the harness is different between 'phases' but I feel the 98 would be the same like ZsZ says though the digital odo will screw you...I guess maybe a junk yard or quite possibly google some pics of the connectors to start? I was but you run into ppl misprinting info a lot


age is one thing....experience is another, i'm not the greatest in the world, but I can do it, and I can do it right

I'm a 96 guy too. I've been told that either 97 or 98 will work with our cluster but 99s are the ones that start making things difficult. I have 98 harness and comp. I guess I'll be finding out soon once I get hpt ordered.


2004 Cavalier Sedan

You can use a 97 or 98 harness and comp as long ad the car it came from has the analog odometer.