Perfect. I have my own cable as well. I just want to get a base tune and a log for Ryan. Just so he has something to go off of. I know he has my idle tune but I know thats going to be changed because of the head. I cant wait.

I have my own cable with my car unlocked, we all win!

So I discovered the wackyness cause.
Car wouldn't build boost for @!#$. Looked every where for a boost leak, NOTHING.
Bought a new solenoid for my Profec B, NOTHING.
played with the tune adding and removing fuel, NOTHING.
Finally decided to pull the line off the Wastegate to see if it would make more then 8#, NOTHING.
Wait, what the heck? Won't build boost past 8 psi with the Wastegate boost line unhooked?
Must he turbo issue...
look closer at the turbo, found Tue bracket that mounts the Wastegate actuator bent.
Holding the friggin Wastegate open.
SON OF A BITCH!! bent the bracket back.
Everything works fine now.
FML!!
Now I gotta get this thing tuned...
Where's Ryan?
I think he is back in Missouri now

Ohio had enough of him.

Travis, sometimes it's the simplest things......the fuel issue on my buddys turbo ln2 was the Racetronix pump was sucking up the supplied in cup fuel filter cutting pressure to 30psi at idle and 35 with fpr disconnected. Once we removed it we saw 45 at idle and 58-60psi at wot. Glad to hear that your issue is fixed.
Edited 1 time(s). Last edited Monday, June 25, 2012 4:00 AM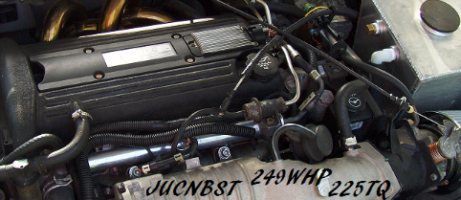 Jeff is right Travis.. It always seems to be something stupid... Vince can attest also, I had to drop his tank when his car was here due to fuel supply line came off the sender... Then when I went to Chitown to originally tune Ron's car, ran into all kinds of problems.. Sometimes is best to go over EVERYTHING with a fine tooth comb.... Glad you both got the issues figured out. I think I got texts from both of you within an hour or so saying you found problems. Would have responded but was driving.
P&P Tuning
420.5whp / 359.8wtq