I have a 02 ecotec turbo when it was all put on it got trifecta tunned. All i was able to get was the base tune to get it running and cant get a hold of vince its been 6 moths and running rich. I have a buddy that totaled his car and has hpt he will let go for cheap withe laptop he tunned his car with it.

My questions
1. since i have the trifecta tune on mine do i need a new ecu for the hpt.
2. I have looked obviously not hard enough for a base turbo file that i can play with some thing to get me started this is the biggest thing thanks



*****BLAME IT ON THE ALCOHOL*****

You won't be able to read the Trifecta file, but you should be able to write over it. As for a "base tune", good luck... Starting from scratch is gonna be the best bet...
P&P Tuning
420.5whp / 359.8wtq
Danm time to read alot more thanks


*****BLAME IT ON THE ALCOHOL*****

Hell just spend the money to get Qwk Cav down to TX and have him tune it, you won't regret it. He knows his @!#$ and you won't have to worry about possible "expensive noises" down the line because it ca be an expensive learning curve..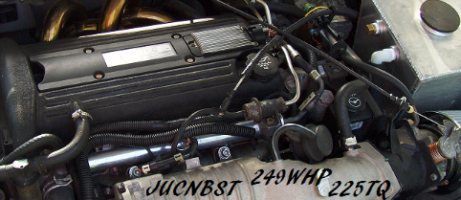 I would love to but this is just for now need to build spare block topmount and big turbo and new solid hot side pipe this will do for now just wish i could squezz that lil extra out of it


*****BLAME IT ON THE ALCOHOL*****