Put big cam, valves in a ln2 with ebay header and used hp tuners and have it spun up to about 6700.
My Injector duty cycle is up to 130% at 6700 rpm. and the AFR is way too lean.
I thought that the stock Injectors would be good enough to run without boost.
Could it be filter? pump? how to check pressure?
Burned this motor up a couple weeks ago dont want to do it again.
Circle track racing.

Thanks in advance

What year is the motor/ computer?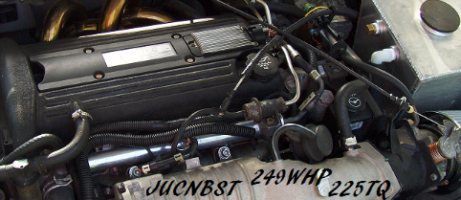 97 computer, 94 head-fuel system
Thanks for the quick response.

Those are side feed injectors, as far as I know your stuck as there are no upgrades unless you convert over to a topfeed style rail like on the 98+ 2.2's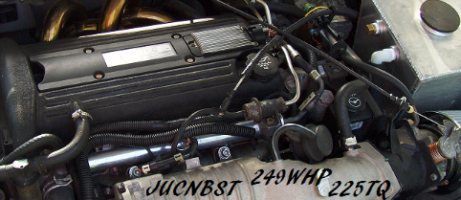 I've been looking at these... They're a little big and a little expensive but probably worth it. We just need to get some specs to compare them with the factory ones and make sure they'll fit.
http://www.summitracing.com/parts/HLY-522-54/
That might work but pretty pricey. I have the top feed rail and (i think 19lb/hr ) injectors from a 2000 ln2 that I am installing right now.
I am not sure that that will take care of this fuel problem that I have.
Now as far as programming is concerned I have no idea if and what I need to change or get the factory specs on each injector.
I don't think it will be a plug and play deal for sure.
I can't believe that at one time I thought I would never be able to get more power than the injectors would supply.
Is it possible to have 200 hp normally aspirated? according to online injector calculators I need 32lb/hr to get that.
But according to that the stock motor at 135 hp and 100% idc is 16.8 lb/hr.
No wonder I don't have enough fuel!

If your swapping to a topfeed rail you can swap out injectors on the cheap, then you will have to change your injector constant to get it to run smoothly and you could then tweek your trims from there. Did you remove all the tourqe managment and lowwer the pe rpm point yet?.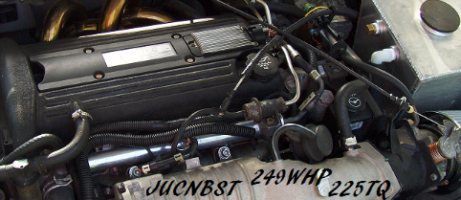 Yes on the pe and torque management..
Where do i find info on what i need to change for the 19 lb injectors?
What had the 24 lb injectors and where can i find the changes i need For this?
I have Greg's video and am going to watch it again tonight.
It would be great if some one knew, say a 93-05 Monte Carlo had what i was looking for.
It runs real good has had fast time all year. But as it gets faster it also runs more rpm and that's where the fuel system can't keep up.

Ok I have the intake drilled and setup.
I have located injectors for a Quad4,( will get part numbers for them)
Where do I find the information for these, what settings do I use? voltage offsets?
I understand these are low impedance.

Just get some ford performance injectors like brown tops or red tops. Greens are too big for what you need. I think reds are 30's browns might be 24iirc.
As far as changing th injector constant for bigger injectors read the faq's on the top of the page. I'm at the limit of my hpt knowledge as I've watch my buddies use it and have had litte time using it myself. Hopefully some of the more knowledgable member will comment soon.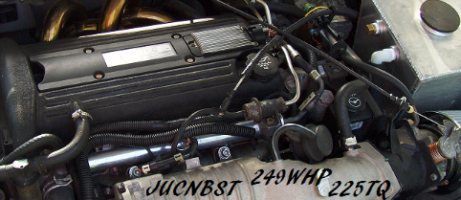 I make a custom topfeed conversion for your car that would have a new rail and allow for the use of different top feed injectors, if interested PM me.

Ok located some injectors, now I go to HPT editor and can only change Inj. constant.
cant change pulse width, offsets, or nothing.
So is this going to work?

Yes you can. I suggest reading up on HP Tuners if this is the route you are going to go. These parameters are adjusted in different tables.