Attempting to use efilive with a 2002 f body ecm on 97 cavy junker. Rigging up a 24x wheel for the signal to the 0411 ecm. Anyone ever considered it? More to come soon. May be the countrys first.


98 S10 2.2 ln2 T3-T4 turbo.Custom made by me. 5spd. Forged pistons, H-beam rods, cometic mls. 50lb delphi's. 57mm throttle body. 3in downpipe full exhaust with cat. 15-20 psi everyday on a $200 fleabay turbo with 45,000 miles on it. (Dont believe everything you read on the net). Tuned by me with efilive.

I've always pondered if using an ls base ecu would plausable. I'm curious to see where this goes. Good luck.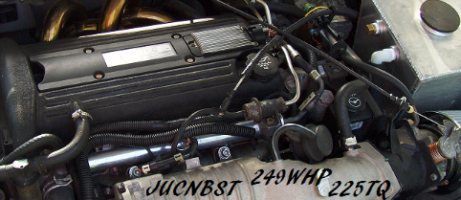 If this ever had the possibility to work for an eco car, id be swapping my harness asap and probably keep the car forever!

Biggest thing is making sure to use the correct 4 cylinders for fuel and spark. Make sure they are in the proper firing order.

Ive heard of v6s being ran on a v8 computer, probably plausible with a 4cylinder as well.


"Oil Leak ? What oil Leak ? Oh, Thats Just The Sweat From All The HorsePower!!"