Whalesac wrote:

Are you planning to run the JBody ICM or COP for spark? If you use the older Quad4, LN2, Tech4, etc. ICM, then you can tap into the CPS wiring directly and just follow the wiring diagram in the link provided earlier.
I'm willing to use whatever spark setup will work, work well, and not cause any issues. Are there any drawbacks to using the older Quad/LN2 ignition setup?
I finally got a chance to read through that whole post with the wiring diagrams, but i still have the question of "even if i switch to the older ICM, will there not still be a degraded signal by tapping into the CKP wire like Mike alluded to?"
That's what the original issue was, wasn't it? What's different about the LN2 ICM that now we can tap that signal with no ill effect?
I'm sorry if that answer is literally staring me in the face and i'm not cluing in.
I'm one of those guys that needs to know not just "why" to do something, but also the process of how it all works before i can implement anything, which should explain why i sound like a 2 year old with all my questions about life and "where do we go when we die?"
I thank you for all your help Brian. Makes me wish i was more active in the JBO community back in 06 when all this was still relevant.
I believe I revved mine out to >7.5K on a couple occasions. I never had any issues. Car was down for over a year and I just got around to fixing it, so my memory is bit vague to exactly how high the RPM's have gone...and I think senility is starting to kick in as well.

Hell, I had 3 systems tied into the CPS signal when I was dicking around with the Transmission controller. I think you'll be fine.






I have no signiture

About that trans controller....I would already have MS3 if it wasn't for the 4T40E.
Thrice . wrote:



Whalesac wrote:

What Mike posted is correct. The signal that is generated from a VR is very weak. It doesn't take much load to pull it down. This was the issue I had originally with my transmission controller project. The way I fixed it was in a similar manner to the V3.0 board's (and probably 3.57's) optional optoisolator input (with an additional transistor). This provided an isolated high impedance input for the CPS signal.

The method we all used in the past for ignition though was like Robbie mentioned. You use one of the older ICMs and what actually went to the standalone was an already conditioned version of the crank signal. I did some digging around and found an old post of mine that shows the how it's wired....http://www.j-body.org/forums/read.php?f=64&i=10970&t=10913&p=1


If your plan is to use the stock ICM or COP, then someone else will have to help because I've been out of this game for far too long



I am newb (improperly worded sentence for emphasis on newb) so "optoisolator" sounded like a wicked popsicle i used to have as a kid. so i googled it



Quote:

In electronics, an opto-isolator, also called an optocoupler, photocoupler, or optical isolator, is a component that transfers electrical signals between two isolated circuits by using light.[1] Opto-isolators prevent high voltages from affecting the system receiving the signal.



That is copied from Wikipedia. My question now is; in english, does that mean it prevents larger loads from creating a drop in resistance on a wire/circuit, therefore allowing you to duplicate a signal such as a VR signal from a crank?

Meaning, get a V3.57 board and run the crank signal like so: sensor-ICM-ECU-MS3.57-whatever goes next?

Or have i completely misunderstood what i read.
An optocoupler will basically give you the signal of what's going through it, but you use your own separate power for the receiving cicuit (in this case, the ECM and/or ICM). This is how it prevents a large load being placed on a low voltage circuit.
By doing this, you are also isolating the two computers from each other, so it's an extra safety feature to keep either from getting a corrupted signal.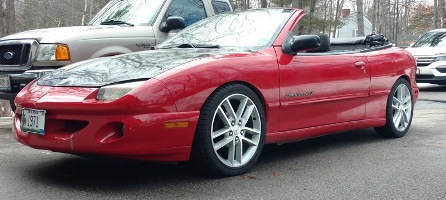 -MD- Enforcer wrote:

About that trans controller....I would already have MS3 if it wasn't for the 4T40E.
The makers of megasquirt have a transmission controller called megashift that will handle this with no problem.
I have only put one together for a friend never used one.,,nice piece.
or just change it over to manual shift with a B&M shift with some strategically mounted switches ,,it worked for my buddys 3.8 holset megasquirt 4t65e swaped sunbird ..well that is good enough for countless drag passes with a best of 12:81 on street tires !
and stop making excuses and DO WORK!
Gotta squirt'm all.
...