Fuel trims will only be adjusted after certain conditions are met. The car has to be in closed loop, has to be warm, and generally there are some timers involved. First the short term trims are moved to bring O2 readings into line. If short term trims are not within a certain range, the long term trim will be adjusted, slowly, to try and bring the short term within range. This process can take some time for different vehicles.

A fuel trim of -14 indicates the ecm is removing fuel. By decreasing the size of the injector constant you should see the fuel trim get closer to zero. But remember that the constant affects everything the pcm calculates for fuel values. If you lean idle with the constant, you also lean cruise and top end. If most of the fuel trims are within +/- 10, then it's probably best not to adjust the constant but to go after VE.

If you've been changing timing and VE values and your calibration now is nowhere near stock, then it can be tougher to figure out what part of the cal to adjust next. Make small changes, write down what you do (it's easy to forget!), and always keep one the last file or two that you know ran, just in case you make a mistake.

-->Slow

yea i keep pretty good notes here and i make the smallest adjustments possible then log and compare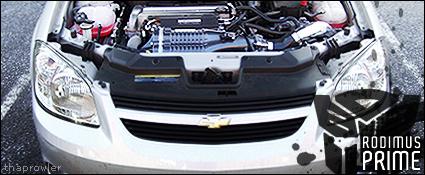 1989 Turbo Trans Am #82, 2007 Cobalt SS G85
I just tried both of your suggestions....
slowolej, your number made my car not start.... i slowly increased the numbers until i reached your number sweetnessGT... my car started but i had to hold the gas down for like a minute or two while i saw the long time fuel trim climb to 25 and the short trim remaining around 20... after that, i can drive my car around normally.... i never watched this while i had .20101 as my constant...
Current Map
Long Log
thats my map, and my log... let me know if you guys find any obvious problems.... i am going to log my wideband next time, im still trying to find time to do that, but it was on mid to high 13's the whole time....
P.S. The "fake 2bar" technique is implemented on that map....
|Forged 8.9:1 Wiseco Pistons|Forged Eagle Rods|HPTuners|60trim|Tial Wastegate|
|Precision Intercooler|2.5" Exhaust|2.5" Charge Pipes|630CC Mototron Injectors|
|Stock: Fuel Pump, Transmission, Manifold, TB, Head, Head Gasket, Ignition, Suspension...|
so.... i just went outside and reset my computer... started it back up with the .20101 constant map that i have been running for about 2 weeks now... and it idles in the 14's perfectly... it even fixed an AC problem i was having too (http://www.j-body.org/forums/read.php?f=64&i=5219&t=5219)... I didnt think it would make a difference, i guess there is information that remains even after an hpt "write entire" ... i will post an update after driving all day tomorrow, but driving around the block, everything looked good...
|Forged 8.9:1 Wiseco Pistons|Forged Eagle Rods|HPTuners|60trim|Tial Wastegate|
|Precision Intercooler|2.5" Exhaust|2.5" Charge Pipes|630CC Mototron Injectors|
|Stock: Fuel Pump, Transmission, Manifold, TB, Head, Head Gasket, Ignition, Suspension...|