any show in wisconsin for 2009

what part of WI are you in? not too many ppl on here seem to be from WI...
Did I mention I drive a 2000 Lumina now?-----wigm-tuners.org member
i live in menomonie. its about 20 mins west of eau-claire.
should start a j-body meet

or just a car meet in general.
Menomonie eh? What kind of car do you drive? I go to school here and haven't really seen any other J's around here...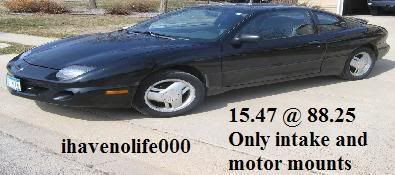 I'm in Eau Claire :-) Just a hop skip and jump from Menomonie.
2010 Subaru Impreza WRX Limited
1999 Cavalier Z24 Supercharged
1999 Grand AM SE (Beater Car)
1997 GMC Sierra
2007 Honda CBR 600RR
2005 Honda TRX450R
everybody who hasn't.
go to wigm-tuners.org for any of the meets!
WiGM-Tuners member.
im in jackson, like a half hour north of milwaukee

horsepower is the force that determines at what speed you hit the wall, torque is the force that determines how far you take the wall with you after you hit it.