Here is their disclaimer:
"Stating the obvious.
We'd like to thank the bulk of you for not thinking, it makes the satire and parody that much easier. We've been pretty proud of the results so far.
The lawyers have asked that the following disclaimer be placed on this site. It seems that whether they're organized or not, there's some fear that 'they' may look this way.
Absolutely none of the information on this site has been verified to be true and, if you haven't been able to tell, it isn't affiliated with any of the people or companies mentioned on this site. We, however, do truly love Bill Cosby, but, again the lawyers request that we tell you that doesn't mean that he had anything to do with this.
Anti-Social.com - making the information super highway unsafe for idiots since 1997. Back with a vengeance, Spring 2006."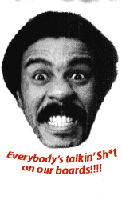 When I was about 11 years old, I started reading and studying a couple uber-controversial topics, and I've since collected shelves full of books, notes and reports on them. They were The Philadelphia Experiment and The Kennedy Assassination.
Keeping that in mind, what I just read is the most paranoid, wacko conspiracy theory piece of crap I've ever read. It's great fiction and will make a great movie. Dave should make good money off this one.
09:f9:11:02:9d:74:e3:5b:d8:41:56:c5:63
wow. if indeed is true. i loved thAT SHOW.

He briefly left because he felt that he has lost a lot of the creative control of the show. For whatever reason, he came back (I'm guessing because he has a contract and would be very screwed if he didn't) Maybe he regained some of the control he wanted for the skits, maybe he didn't... I don't know
._____________________________.
hostis humani generis - Causa latet vis est notissima
You have been banned from posting on this site as of 2005-12-11 18:21:36. This ban will expire 2005-12-18 18:21:36 Pacific Time.

Reason: Your comment about Grim Raven's wife was completely uncalled for and way over the top.
My other car is a boat.
Supermotors
Free FlatScreens, IT WORKS!
There was an article about why he left awhile ago in TIME magazine. its basically the same reason as grimor said.
i heard this the other day on the radio, and they actually had oprah and al sharpton clips from interviews that Entertainment Tonight did. All accusations of this "theory" were denied from both of them.
This has really got to be one the stupidest things ive heard in a long time. Lol
R.I.P. Kasey N. Burleson
It does sound like a reasonable story, but it goes too far when they mention that oprah and al sharpton (i think) are in his house personally making the threats. I read that Time article too. Maybe the theory is true to some degree, which would go along with what Dave says in the interview, and maybe he's affraid people will think he's nuts if he says what really happened. But I supposed if theres a disclaimer, none of it is probably true.