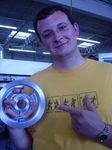 Mike Davis -MD- LD9
Location:
Northeast Ohio In the Lake
Joined:
Monday, August 2, 2004
Last Update:
Wednesday, April 9, 2014
Last Seen:
Monday, April 21, 2014
Email:
unlisted
Web Page:
http://www.facebook.com/mdz24cavalier/
Garage:
1999 Chevrolet 1JF37 Z24 Coupe, RPO Group 1SA-1SZC Coupe
- Aquamarine, RPO Code 22U
1929 Ford Model 'T' 1923 Model Year Truck
- Mitsubishi Evolution, Octane Blue 11'
2006 Chevrolet HHR LT1 (SOLD) Hatchback
- Black
1988 Yamaha Moto 4, YFM225U Motorcycle
- Gray
1999 Chevrolet 1JF37 Z24 Coupe, RPO Group 1SC Coupe
- Red, Bright, RPO Code 81U
2009 Mazda 3 iTouring Sedan
- Galaxy Gray Mica
2013 Chevrolet 1EF37, Camaro, 1LT, Coupe Coupe
- Summit White, RPO GAZ
Birthday:
January 12, 1983
Gender:
Male
Marital Status:
Married
Ethnicity:
Caucasian (White)
Education:
College Grad
Occupation:
Mechanical Engineer / I.T. Tech
About Me:
Owner of Ennotech Designs LLC. Specializing in custom designed automotive parts.

Old User Names
-MD- LG0/4T40E
-MD- LD9
-MD- Z24
Mr. Smiles (MD Z24)
MD Z24
md

I'm a very easy going person. Ask most people here they will tell yeah.

I take on a lot of projects, and always find time to finish them soon or later. I'm also in the middle of a build for my cavalier. GM supercharger, new motor (LD9), HPTuners, and built 4T40-E.
Hobbies/Interests:

Founder of Team Innovation car club
of Northeast Ohio








Co-Founder of Disposable Heroes for the PS3.








PSN ID: mdz24cavalier





XBL ID: slowcavld9



| | |
| --- | --- |
| What's New: | My car is like......any addiction, you know its bad for you, you know it costs to much money, you know there is better, and you love it anyway. |
| | |
| --- | --- |
| Favorite Quote: | From my brother...I do not need my dick wet to be happy, but it sure helps. |
Dream Car: Procharged 1970 Chevelle SS 454 C.I. LS6