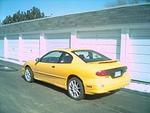 Rob Merrill
treborjm
Location:
Abilene, TX
Joined:
Sunday, September 5, 2004
Last Update:
Tuesday, April 22, 2008
Email:
unlisted
Web Page:
http://www.cardomain.com/id/treborjm
Garage:
2002 Pontiac Sunfire SE Coupe
- Yellow
2004 Pontiac Grand Prix GTP CompG Sedan
- Sport Mettalic Red
2005 Chevrolet Cavalier Coupe
- White
2001 Pontiac Sunfire SE Coupe
- Blue
Birthday:
January 17, 1969
Gender:
Male
Marital Status:
No Comment
Ethnicity:
Other
Education:
Some College
Occupation:
Network Administrator
About Me:
Graduated from High School in '87. (CA) Went to a Automotive trade school called Arizona Automotive Institute. Worked at a Ford Dealership as a heavy line mechanic. Entered the Air Force as a Fuel Systems Mechanic (Sembach AB, GE & Hurlburt Field, FL) then cross-trained into the Flight Engineer career field. Spent 6 years @ Dyess AFB, 4 Years @ Carswell NAS JRB, 2 years @ Minneapolis/St. Paul JRB IAP and I am now stationed @ Carswell NAS JRB again.

I am not from Texas, but it has become my home.
| | |
| --- | --- |
| Hobbies/Interests: | Fast Cars, Fast Harley's, Military History, AND C-130's!!! 500 ft. Low levels @ 250 Knots ROCK!!! |
Dream Car: Pontiac GTP