yeah the car that mommy and daddy bought me thats why i work full time and make the payments myself fukface. and lets just all assume its a stock mustang with 260 hp, seems everyone else on here wants to keep assuming @!#$. like im a high school punk, graduated 2 years ago assclown. i think that no longer qualifies me as a high school prick.

man chill out , there just messing with ya...
and not to start another arguemnt but do u really think ur ledsled can beat a jbody (at least most of them on here)..... i mean honestly mustnag Gt's dont even cross my mind at ALL as muscle cars or cars that concern me to race
not to get this messed up ...I LOVE OLD MUSTANGS!!! but the new ones just are NOT what they use to be
actually yeah unless the jbody has boost i am pretty sure i would crush them

to each there own

back on topic time

nice car man ! lower it /rims/ evileyes
ghostlyz24 wrote:

actually yeah unless the jbody has boost i am pretty sure i would crush them
then go to the Other Cars forum and post up pics of your car, including your engine mods, and a timeslip from a local track. maybe even throw in a dyno to prove how bad ass your car is. then maybe after that you can stfu and stop ruining this thread.
to the OP: its a start man. rims and a drop will make it look much better. evil eyes are always a plus too, and so is shaving the badges and side moldings. good luck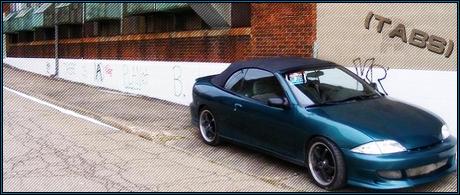 95+ Cavalier and Sunfire Convertible Service Manual! A must read for vert owners!
thats for all the guys/girls who gave me useful feedback and not bull@!#$ because there a total @!#$...
i would have posted earlier but i used up all my posts so i had to wait till today...
definitely plan on taking off the molding and emblems soon... wanna do the rear window stopper delete... and get the gt front and z24 rear as soon as possible... hopefully before summer... trying to get a hold of some lowering springs and struts and maybe a set of wheels for it... but one think at a time... need some money before i can start anything.... definitely still thinking about the evil eyes too.. they look sick in the photoshop i did...
When you accomplish the plans you have listed, it will certainly be one hell of a clean looking Sunfire Sedan

! I can't wait to see updates!

dont hold your breath... it will be a slow process thats for sure