After owning my z24 for 16 years and having it parked out in the street and rarely driven for the past 8(100 miles,if that),i finally have a place to work on it. I bought a house with a 2 car garage and had it flat bedded up during the week. Engine is pretty much shot so im gonna rip it out and rebuild it. Im not sure if what kind of build I wanna do with it yet. I have an 02 ls sport that I bought last year cause I missed driving a j,and I also have an 06 cobalt ss/sc. Im not sure what car i wanna build yet,lol. What i would like to do is sell both cars and buy a 2014 wrx hatchback and make the z24 my project car. If i can afford it lol.
Peter
'06 Cobalt ss/sc W/G85 Package
Gm Stage II W/2.79" Pulley
K&N Drop In Filter
Custom Magnaflow Dual Exhaust
8 years eh? daaaaaym. lol very nice.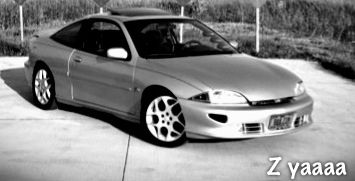 RIP silver car. You will be missed.
-Z Yaaaa- wrote:

8 years eh? daaaaaym. lol very nice.
Yea,lol. I stopped driving it in 06 when I got my balt. The only time I drove it was inspection time. If it wasn't for hptuners,it wouldn't have ever passed inspection lol.
Peter
'06 Cobalt ss/sc W/G85 Package
Gm Stage II W/2.79" Pulley
K&N Drop In Filter
Custom Magnaflow Dual Exhaust