if i swap my computer and control modules out for the ones in a 02 (mines an 03) will i loose my 106mph speed governer???? probally gonna do it anyway so i have an open loop system so i can run nitrous (30-50 shot) eventually.

No you can't.

And what do you mean by "probally gonna do it anyway so i have an open loop system so i can run nitrous (30-50 shot) eventually" ?


sig not found

because the comp sys of an o3+ is closed loop which means it always tries to get a air/fuel ratio 0f 15/1, in a closed loop you can run richer by adding injectors, advancing timing, moving the iat to your front bumper to tell the engine the air in the in take is colder than its is which will make it give more fuel. and you have to to run nitro on a 03+ cavalier.
and do u mean no i cant, or it wont work?

You're way off on that. All PCM's have open and closed loop operation...
Moving the IAT doesn't cause more fuel to be dumped, the IAT only affects timing, and it doesn't advance it, just retards it above 175 degrees.
You don't have to move the IAT to run nitrous, I never did.
4cyltuner.com
- Information Source For 4 Cylinder Tuners
Buy stuff from CarCustoms Ebay! Won't be disappointed!
FYI - when your throttle position passes 80%, your ECU pops out of Closed Loop and goes into Power Enrichment mode. Just like open loop really, reads off the fuel tables and not the O2 sensor.
The ECU's timing tables are set at a certain point. It will not go past that. When you blast enough nitrous in there to lean it a bit, it'll detonate, the knock sensor will hear it, and the ECU will pull timing like there's no tomorrow. Intense racing has an IAT simulator thingy. It's not expensive, you dont have to splice in wires, it does what that ebay chip does, but it looks stock. Modifying the IAT is dumb.
What you want to do, is get yourself what is called a WET nitrous kit. This will spray in FUEL with NITROUS. So you get both the fuel and nitrous that you need.
I dont want to be mean, but I'm going to be real honest. It sounds like you dont know what you're doing. And dont understand what you're planning to possibly do to your car. I would HIGHLY ADVISE you
NOT
to run a nitrous kit. Because I see you as the next candidate for a post asking where you can get a new engine from.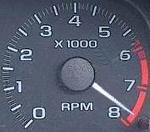 yeah my point im trying to LEARN i dont wanna mess with turbos or superchargers, i just wanna get a little extra hp when im at the strip. ive had people tell me i have to swap my ecu to a closed loop, i dont have to do anything, put in plugs one step colder, get a venom 400. i just want one straight answer! WHAT DO I HAVE TO DO IN ORDER TO RUN 35-50 SHOT OF NITROUS ON MY 03 CAVALIER 5 SPEED?????????.... all i really know is that it has to be a wet kit.

read. The Venom 400 is BS. it doesn't work. Also, colder plugs only with FI and high compression. Useless on a stock engine.

seriously, start searching and reading cause if you don't know what you need to run nitrous, you can't use nitrous.

What you need to run nitrous? A car and a nitrous kit. That's all but you don't have the knowledge to use a kit so don't even think about it for now.



Gilles
2.3 Ho


Also, there's a nitrous forum for a reason and FAQ for the new guy like you.



Gilles
2.3 Ho